Meghan Markle, Britain's Duchess of Sussex, has shared a secret blue touch added to the famous Givenchy wedding dress she wore when she married Prince Harry in Windsor Castle earlier this year.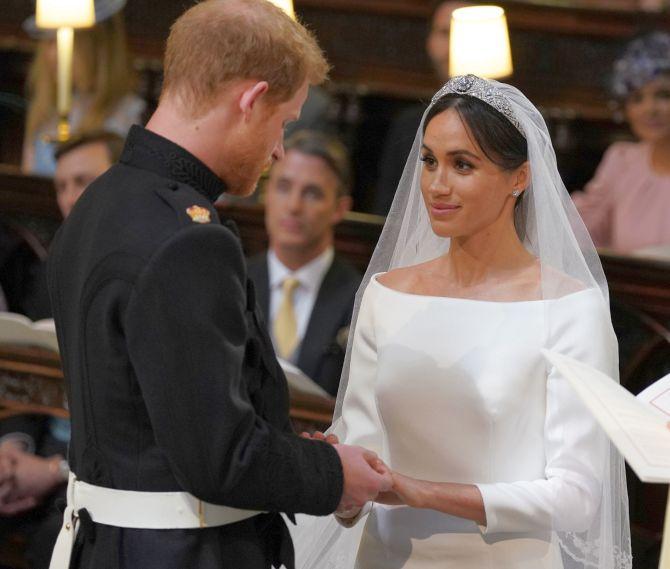 The 37-year-old former actress revealed that her "something blue", worn by brides as a lucky charm on their wedding day, was a piece of a blue dress she wore on her first date with Prince Harry stitched discreetly inside her white wedding gown.
Brides traditionally collect something old, something new, something borrowed and something blue to bring them good luck on their wedding day and Markle shared some details of her big day for a new TV documentary 'Queen of the World', to be aired in the UK from next week.
She is seen reunited with her wedding dress, designed by Clare Waight Keller, at Buckingham Palace as curators of the Royal Collection Trust conserve it to prepare it for public display.
"It's nice to see it again. It's beautiful," she says as she lays eyes on the dress.
"Somewhere in here, there is a piece of… did you see it? The piece of blue fabric that's stitched inside? It was my 'something blue'. It's fabric from the dress that I wore on our first date," she says during the filming.
Markle has previously said of the date, after the couple were matched by mutual friend Violet Von Westenholz: "It was definitely a set-up. It was a blind date."
"I didn't know much about him and so the only thing I had asked her when she said she wanted to set us up was, I had one question. I said 'Was he nice?'"
Now as a married couple, Harry and Markle will appear in the documentary about Queen Elizabeth II's work around the Commonwealth and speak of how they plan to carry it on.
The Duchess disclosed her decision to include wild flowers from each of the 53 Commonwealth nations into her veil had gone down well with her new family, who interpreted it as a sign of her commitment to duty.
"It was important for me, especially now being a part of the Royal Family, to have all 53 of the Commonwealth countries incorporated," she said.
She added: "And I knew that it would be a fun surprise as well for my now husband, who didn't know, and he was really over the moon to find out that I would make this choice for our day together."
"I think the other members of the family had a similar reaction, and just appreciation for the fact that we understand how important this is for us and the role that we play, and the work that we're going to continue to do within the Commonwealth countries.
"So it was good news all around, I think. I hope people liked it as much as I liked helping to create it."
The couple were married at St George's Chapel in Windsor Castle on May 19.
They are set to embark upon their first major tour next month, when they travel to the Commonwealth countries of Australia, New Zealand, Tonga and Fiji as part of their new roles as a Youth Ambassadors of the organisation.