The ISRO team worked tirelessly to make the Mars mission a success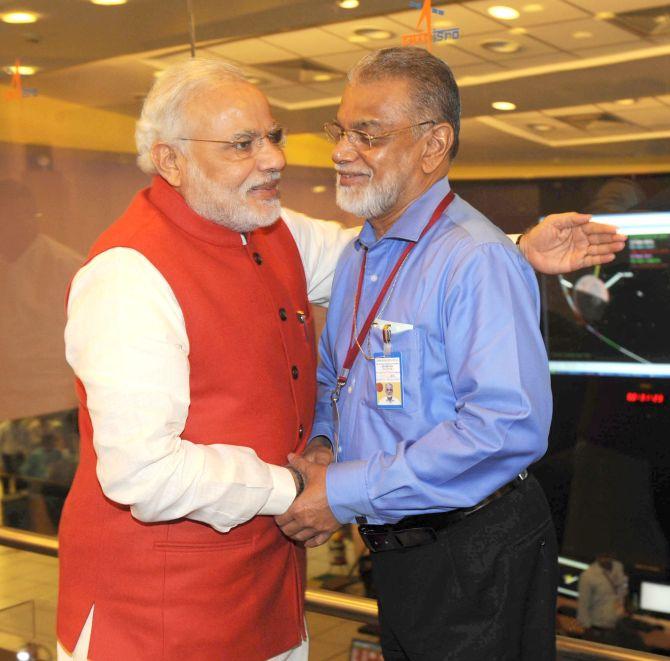 Prime Minister Narendra Modi congratulates ISRO Chairman, Dr K Radhakrishnan after the success of the Mars mission. Photograph: Press Information Bureau
K Radhakrishnan: Indian Space Research Organisation chairman and department of space secretary. He became chairman in 2009, and was awarded the Padma Bhushan in 2014.

Mylswamy Annadurai: Programme director of Mangalyaan. He was leading the remote sensing and science missions; responsible for budget management, direction for spacecraft configuration, schedule and resources. He was the project director of Chandrayaan-1 and now Chandrayaan-2.

S Ramakrishnan: Director at the Vikram Sarabhai Space Centre. He is one of the key brains in the development of PSLV and is responsible for development of liquid propulsion stages and their interfacing with vehicle and launch operations. He is responsible for realising the PSLV that ferried Mars orbiter.

Shivkumar: Director of ISRO Satellite Centre, developed the telemetry system for MOM.

V Adimurthy: Mission concept designer of MOM.

P Kunhikrishnan: Project director of PSLV Programme. He was the mission director of eight successful PSLV Missions. He is the mission director of PSLV-C25/MOM. He was responsible for seeing the rocket complete its mission successfully

Subbiah Arunan: Project director of MOM. He was responsible for building the spacecraft.

B Jayakumar: Associate project director of PSLV project, responsible for the rocket systems. Chief general manager of range operation at Sriharikota Rocket port. He was responsible for maintaining launch schedules without any slippages.