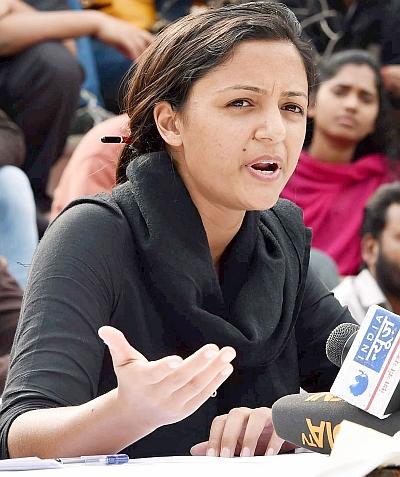 'When you come to Delhi, you see that there are many Kashmirs here -- the Dalits, Muslims, women, bonded labourers.'
Manavi Kapur meets Shehla Rashid, a most unusual student leader.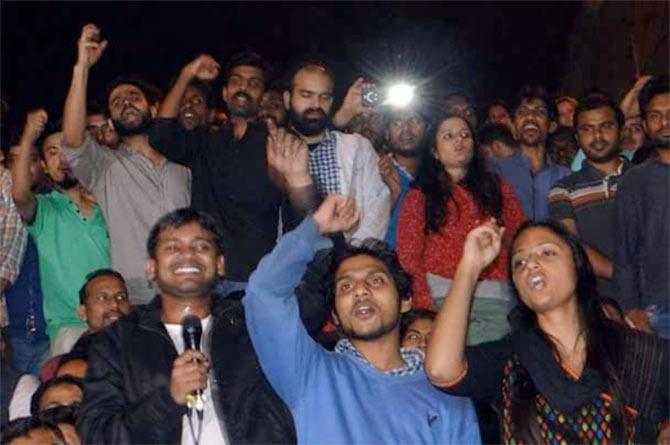 IMAGE: In this photograph dated March 4, 2016, the day Kanhaiya Kumar, extreme left in black jacket, was released on bail, Shehla Rashid is seen cheering Kumar along with Rama Naga, who along with Kumar, Umar Khalid and Anirban Bhattacharya was charged with sedition, but was not arrested. Photograph: Shehla Rashid/Facebook
Working behind the scenes as well as taking centrestage, Shehla Rashid has shaped the narrative at JNU as much as it has shaped her
As she makes her way towards me, Shehla Rashid halts to share a smile, a casual greeting or a quick handshake with several people who cross her path.
Dressed in a grey kurta with a stole around her neck, Rashid looks even more petite than her photographs. After winning the Jawaharlal Nehru University Students' Union (JNUSU) election and being elected vice-president in 2015, Rashid has been at the forefront of the Occupy UGC and Hyderabad Central University protests.
But the real test came when JNUSU President Kanhaiya Kumar was arrested last month over charges of sedition and raising 'anti-national' slogans inside the campus. Rashid stepped up and mobilised a widespread campaign for Kumar's release.
As I begin my questions, she requests me to keep our conversation and this report focused on "political issues." "I don't want my personal story to take the focus away from the ongoing debate," says the 27 year old.
In fact, it is hard to find a single post on her social media accounts on Facebook and Twitter that is remotely personal -- almost all of them are in response to one recent political event or another.
The only time she agrees to speak about her family is when I ask her how they feel about her role in the recent 'anti-national' controversy at JNU. "They are worried sick," she says, staring into the distance for a moment, before snapping our focus back to politics.
Born and brought up in Srinagar, Rashid says she was always politically inclined, but never fully knew how to articulate herself. "While I was growing up, politics was a bad word, usually something that had the potential to attract violence," she says.
Does this have something to do with her formative years in Kashmir? "There was heavy emphasis on maintaining normalcy." But, as Rashid would grow up to realise, life in the 1990s in Kashmir was hardly 'normal.'
"An aunt of mine was hit by a bomb and her arm was severed. There was always a military presence wherever you went in the valley. And yet, we weren't brought up to question these things," she says in her characteristic husky voice.
Yet, her seemingly apolitical upbringing did not keep Rashid away from political activism for too long. Even during her short stint at a software company in New Delhi, Rashid was writing critical blog posts and petitioning against acid attacks on women. In a particular blog post from 2011, Rashid criticises Doordarshan's agenda-driven presence in Kashmir.
"Tufail Ahmad's death from a teargas shell in 2010 was a moment of awakening for a lot of us in Kashmir. The civil unrest brought out everything about our reality that we were trying to ignore," she says.
But it was really after the December 2012 gang-rape case in Delhi when Rashid began to develop a keener interest in social issues.
"My association with the All India Students' Association (AISA) began during the protests in 2012. While the popular rhetoric was to protect women, activist Kavita Krishnan's emphasis on freedom for women greatly impacted the way I look at gender politics."
AISA is the student wing of the ultra-Left Communist Party of India (Marxist-Leninist) and the party that won Rashid her seat in JNU.
In some senses, then, Rashid is 'more' Left than Kumar, who is a member of the CPI-affiliated All India Students Federation.
Members of the Akhil Bharatiya Vidyarthi Parishad (ABVP), the student wing of the Bharatiya Janata Party, feel that despite the various differences within Left politics, the splinter groups come together in an 'assault' against the ABVP, a Right-wing party.
"Saurabh Kumar won ABVP the joint secretary's seat in JNUSU for the first time after 14 years. And yet, during this entire controversy, he carried out activities under the ABVP banner and not JNUSU's. Rashid and Kumar, on the other hand, have misused this forum for their own agenda," says Saket Bahuguna, national media convener, ABVP. But even Bahuguna, an alumnus of JNU, refuses to comment on Rashid or her Kashmiri identity.
Rashid came to JNU in 2013 as a student of MA Sociology, a moment she describes as "life-changing."
"JNU is often believed to be a microcosm of India, not just in the fact that it has students from all over the country, but also that it offers students space to engage with different, often opposing ideologies."
Interestingly, it is Rashid's association with the Left that has brought her out of and beyond her Kashmiri identity. Rashid promptly tells me that she does not speak for other Kashmiri students as a whole.
But even as a Kashmiri, Rashid says that her time at JNU and in Delhi has helped her broaden her worldview.
"When you come to Delhi, you see that there are many Kashmirs here -- the Dalits, Muslims, women, bonded labourers. You begin to see your struggles in a larger context," she says.
Anand Kumar, retired professor of sociology at JNU and whose class Rashid attended during her MA in Sociology, sheds light on Rashid's political evolution. "She had a bright, inquiring mind with her own perceptions of the government and State because of her experiences in Kashmir. But despite that, she gradually rose above her ethnic consciousness and never played the victim," he says.
This may be different in the case of other students from Kashmir, the North East or Naxal-affected areas, who are psychologically overwhelmed by negative Statecraft, he says, but not Rashid.
"Over the three years at JNU, she has become politically mature and has a modest manner of putting things across." Rashid, too, agrees that she has been "mainstreamed" within JNU. Siddhartha Chakraborti, a PhD scholar at JNU, agrees with this.
"Even though I knew her for some time, I did not know she was a Kashmiri till we started working together for the Kashmir flood relief efforts," he says.
The same, though, is not true for other Kashmiri students on campus. Rashid believes that like the various groups within the Left, Kashmiri students, too, are not a unified political community and many of them remain away from politics altogether.
"Many Kashmiri students have a sharp political understanding. The irony is that it is what perhaps makes them feel alienated from the existing socio-political scenario," she says.
Beyond her oratorical skills, Anand Kumar also explains how Rashid is an able coordinator when it comes to conflict situations. "During the Occupy UGC protests, AISA and JNUSU were at loggerheads and wanted to take the movement in different directions. Rashid was able to rise above this conflict and find a solution, which eventually made her the face of the movement," he explains.
Pujita Guha, a student of the arts and aesthetics department at JNU, adds that Rashid is a diligent political worker. "She is organised and hardworking and knows when she is required behind the scenes. She is fierce and assertive, but I have never seen her take on an aggressive position."
Rashid's ability to resolve conflict was seen when a teach-in by professor Makarand Paranjpe was interrupted by the booing audience and she stepped in to calm the crowds, rather successfully.
As we sip lemon tea at the Ganga Dhaba in JNU, Rashid's phone rings often and she answers certain phone calls to coordinate the evening's teach-in event. The day we meet is also the day activist Soni Sori from Chhattisgarh is speaking at JNU.
Her calls are short, her tone affectionate, but she never once veers off-topic. The words "comrade" and "andolan" often feature in her conversations. When I ask her if her lexicon has changed since she came to JNU, she laughs and says, "Absolutely, there's a lot more Hindi than there used to be!" But on a serious note, she adds, her education at JNU has given her the political vocabulary to articulate her views.
A classmate of Rashid's joins us at the dhaba to update Rashid on the class schedule. They banter about coursework and submission deadlines, almost as though the last turbulent month at JNU never happened. "If it wasn't this latest sedition issue, it would have been something else. As a JNUSU member, one always has to juggle coursework," she says.
But despite her political stint within the university, Rashid is unsure of whether she will pursue mainstream politics outside campus. "In Kashmir and otherwise, I find it depressing to see that politicians have to work under an Intelligence Bureau-surveilled environment. I have to give it some more time and thought to see if there can be a positive intervention in the existing political framework."
Till then, Rashid plans to acquire a doctorate, preferably from JNU. "Unless you come from a feudal political party, you need solid academic credentials for a politically active career." JNU, it seems, has cast its political spell on Rashid quite well.