The 36-year-old desi speaks impeccable Arabic and quotes freely from the Quran during his speeches. Aziz Haniffa/Rediff.com reports from Washington, DC.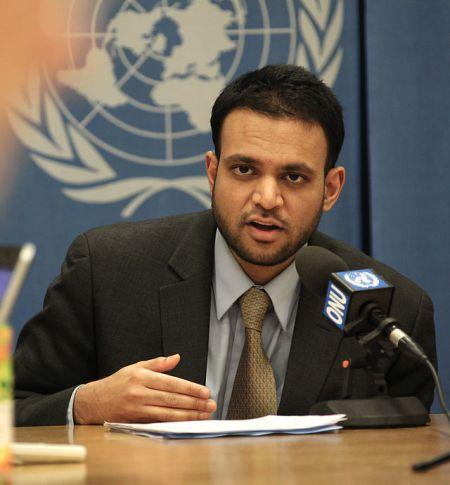 Indian American Rashad Hussain. Photograph:

Indian American Rashad Hussain, 36, one of United States President Obama's close aides, was appointed as US special envoy and coordinator for strategic counter-terrorism communications.
On the first day of the White House summit on Countering Violent Extremism, the US state department announced that Hussain would "lead a staff drawn from a number of US departments and agencies to expand international engagement and partnerships to counter violent extremism and to develop strategic counter-terrorism communications around the world".
This essentially makes him the point man to outreach to the coalition and the Islamic world combating Al Qaeda and the Islamic State.
The state department said, "As part of this role, Special Envoy Hussain will also serve as coordinator of the Centre for Strategic Counter-terrorism Communications, which was established at the direction of the president and former secretary of state (Hillary) Clinton in 2010 and codified by President Obama's executive order 13584 to coordinate, orient, and inform government-wide strategic communications focused on violent extremists and terrorist organisations".
A juris doctor from Yale Law School, Hussain says in his biography that he "finds his heritage central to his identity as a Muslim American and his career goals, especially in light of events in recent history," namely 9/11. He also earned his Master's degrees in Public Administration (Kennedy School of Government) and Arabic and Islamic Studies from Harvard University.
In 2004, he also wrote a major article in The Yale Law Journal arguing that 'much of the debate regarding post-September 11 counter-terrorism initiatives has centered on the potentially damaging effects of these policies on constitutionally protected rights.'
Hussain wrote that 'many observers have weighed the balance that the government has struck between national security and civil liberties by determining the extent to which new law enforcement initiatives preserve or encroach upon these rights.'
He said that 'while scholars debate the legality of the government's new tools, it is often more difficult to assess whether such initiatives enhance or undermine security.'
According to him, since 'the war on terrorism relies largely on sensitive intelligence and covert operations,' the Bush Administration's so-called 'victories' often 'remain undisclosed, yet such assessments will be crucial in defining the future direction of US policy'.
Hussain was born in Wyoming, but raised in Plano, Texas, where his parents still reside. His father, Mohammad Hussain, a retired mining engineer, hails from Bihar and came to the US in 1969, to Chicago, and his mother Ruqaya, an alumna of Aligarh Muslim University, is a physician. He has two siblings, an older sister, Lubna, a physician, and a younger brother, Saad, a medical student.
Hussain speaks impeccable Arabic and quotes freely from the Quran during his speeches, and in 2010, during a nine-day visit to India which included a speech at Aligarh Muslim University, which he described as "a homecoming experience", said that religious extremism is a genuine problem and Muslims "needed to confront it".
Hussain, in his remarks both at AMU and also during his interactions in Muslim countries and other nations in Asia and Africa, has taken strong exception to the contention that it's American foreign policy, including its invasion of Iraq and bombing of Afghanistan, that has led to the scourge of terrorism.
He has argued that "a recent estimate suggested that about 80 to 90 per cent of the casualties of the so-called religious terrorist bombings are from the Muslim community. How is the US foreign policy impacting deaths of our Muslim brothers and sisters while they come out of mosques after offering their Friday prayers?"
Hussain asserted, "I don't hear Muslims protesting and condemning these bombings and attacks as vehemently as they criticise US policies."
He has also strongly defended Obama's outreach to the Muslim world and has argued that within the first year of Obama's June 2009 Cairo speech, many changes have been seen in America's foreign policy toward the Islamic world.
Hussain noted, "Earlier, the Muslim world would be considered for just drafting anti-terror policies -- they would be seen as a problem. Today, the Obama administration has drafted a broad framework for engaging Muslim countries in dialogues in fields varying from science, technology, education and healthcare. The administration has realised that usage of words like jihadists, Islamic terrorism and Islamists is counter-productive."
Since 2010, Hussain has served as US special envoy to the Organisation for Islamic Cooperation, a role in which he has worked with the OIC, Muslim-majority countries, and civil society to deepen and expand engagement on US policy and build partnerships with Muslim communities around the world.
Previously he was deputy associate counsel to Obama, focusing on national security, new media, and science and technology issues. He also served as director for global engagement at the National Security Council and as a special assistant United States attorney in Washington, DC, where he prosecuted criminal cases.
In 2009, Hussain worked with the National Security Council in developing and pursuing the new beginning that Obama outlined in his address in Cairo, Egypt. Before joining the White House in 2009, Hussain was a member of the legal staff for the presidential transition team.
In January 2013, Hussain received the Distinguished Honour Award which is given for exceptionally outstanding service to the agencies of the US government resulting in achievements of marked national or international significance.