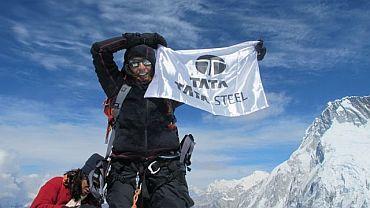 Forty-five-year-old Premlata Aggarwal from Jharkhand has made India proud. She is the oldest Indian woman to climb the Mount Everest. 
Member of the All Women Mountaineering Expedition Premlata, a mother of two, reached the summit on at 9.35 hours on Friday and returned safely to camp with her other colleagues.

Aggarwal was always fascinated with mountain climbing and when she learnt that an all women maintaining expedition would attempt scaling Mount Everest in 2011 she decided to give it a shot, a senior official of the Indian Mountaineering Institute in New Delhi told rediff.com.
She reached the peak through the extremely windy and greatly challenging South Col route. Interestingly, she was trained by Bachendri Pal, the first Indian woman to achieve the feat in 1984. 
The women's expedition was supported by Tata Steel, who provided mountaineering gear to Aggarwal.  "This is a moment of victory for Aggarwal," said a press handout released by the company.
But conquering the Everest was no cakewalk. Aggarwal trained hard and scaled Island Peak (20,300 ft) in the Everest Region before she set her eyes on the world's highest peak. 
On climb to Mount Everest started from the base camp on April 17. Along with her team she trekked Camp 2 (22,000ft) and then to Camp 3 (23,000ft) a day later. Camp 4 was conquered on May 18. A day's rest and Aggarwal, who had to opt for artificial oxygen at Camp 3 during her earlier quest on May 7, was ready to make history.

A 66-year-old Merlbourne woman also set out to conquer Mount Everest in the first week of May but little is known about the progress of her expedition. Sources say that Aggarwal could be the oldest woman in the world to achieve this feat, but there is no confirmation on the same.
Image: Jharkhand's Premlata Aggarwal conquered the Mount Everest on Friday