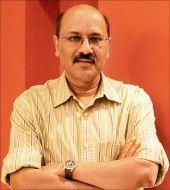 Television reporting is more about TRPs and less about news reporting. It drives on the assumption that a lynch mob is in all our living rooms and we want corrupt politicians to emerge out of the screen so that we deal with them and mete out the punishment, said Shekar Gupta, editor-in-chief of the Indian Express Group, speaking at the Lalit Doshi Memorial Award 2010-11 in Mumbai on Thursday.
He was giving a lecture that was aptly titled 'The Fourth Estate: A watchdog or a hound'. Illustrating the example of overzealous attitude and lack of verification in TV reporting, Gupta recalled how a prominent TV channel discovered a retired Kerala judge as being corrupt based on an ambiguous third person account made many years ago.
His second illustration was about 'several hours of precious prime time and newsprint being devoted to visiting foreign minister from Pakistan (Hina Rabbani Khar) meeting Hurriyat leaders a few days ago.'
"If one does a Google search on this topic then it would be found that every time a Pakistan foreign minister visits India, they meet Hurriyat leaders. There is nothing new in these meetings. Everybody, including the TV and print, went overboard causing the government to issue a word of caution to Pakistan, which in turn rebuked India," he said.
"The fact that Hurriyat leaders are able to meet visiting Pakistani ministers unhindered helps India to present a good image before the world, which was lost on the media," said Gupta.
He went on to discuss the reporting in a leading newspaper how doctors 'were turning scores of baby girls into boys.'
"Medically, it is not possible to turn baby girls into boys. What is being done is genitoplasty which is corrective surgery for those born with abnormalities of the reproductive organ," explained Gupta.
Without naming he also mocked at a leading newspaper for publishing a report on how former Karnataka Chief Minister Yeddyurappa smashed the laptop of senior BJP leader Venkaiah Naidu recently.
"A clarification was published the next day. I will not deprive the pleasure, you would derive it by reading it yourself," said Gupta.
He said that it has become a trend for managing editors, executive editors and other top persons to replace the TV anchors.
"If they make a mistake, who would correct them? To give an analogy in the print media, if owners and publishers start reporting, then it takes a real editor to send back the copy seeking more research," said Gupta.
Gupta also said that 'sting operations are not investigative journalism as it is claimed to be.'
"There is sacred relationship between a reporter and a source. Sting operations and spy-cams breach this relationship. For each sting shown on TV there would be dozens unused clips, that may end up for blackmail."
"There should be fairness and accuracy in reporting. We need the fourth estate to be a watchdog and hound as well," concluded Gupta.
Image: Shekhar Gupta