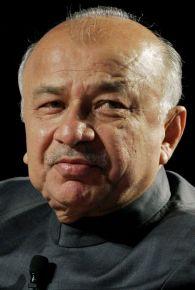 In the soup over his remark about "crushing" the electronic media, Union Home Minister Sushilkumar Shinde went on the defensive, claiming he had referred to the social media and that "media is my friend".
"Electronic media means social media. I have very good relations with the press in my last 40 years. How can I (make such comments)... Recorded speech is with me...Media is my friend," he said in Solapur.
Shinde, who had stoked a controversy on Sunday evening by threatening to "crush" the electronic media, a section of which he alleged was engaging in "false propaganda", said, "I was referring to social media and the violence incited against students from the northeast in Hyderabad and Karnataka. My comments were not about journalism."
Shinde's outburst came at a Youth Congress event.
Shinde, who is a Lok Sabha MP from Solapur, alleged that since the last four months a section of the electronic media was "manipulating" news about him and his party.
"What is happening in the electronic media largely I am aware of it. In the last four months there have been efforts by the media to provoke us (Congress). We will crush such elements in the electronic media, which are indulging in false propaganda, if it does not stop," he was shown as saying in footage aired by a news channels on Tuesday.
"I have the intelligence department under me. I know who is doing such things. I know what is happening. Some forces are behind this," he added but did not elaborate.
Shinde's remarks came against the backdrop of a series of opinion polls in the national and regional media, which predicted a poor showing for the Congress in the upcoming Lok Sabha polls while forecasting a big win for the Bharatiya Janata Party under Narendra Modi.
The opposition hit out at Shinde for his attack on the media, saying freedom of the press was integral to democracy. "How can you talk like this? Freedom of the press is integral to democracy. We are very proud of India's media and for him to say like that...look in your backyard, you are losing support day by day, because of corruption, misrule, rank malgovernance, insecurity...don't blame media for that," BJP spokesman and Rajya Sabha MP Ravishankar Prasad said.