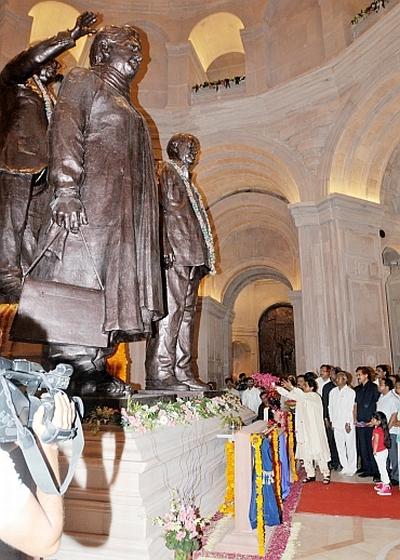 Bahujan Samaj Party chief Mayawati's close aide Naseemuddin Siddiqui and former minister Babu Singh Kushwaha were among the 19 people booked on Wednesday for their alleged role in the Rs 1,400 crore scam in the construction of Dalit memorials and parks in Uttar Pradesh.
Along with the two former BSP ministers, former joint director of mining S A Farooqui, former managing director of Rajkiya Nirmaan Nigam C P Singh and 15 engineers have also been named in the FIR, police sources said.
The FIR was registered at Gomti Nagar police station by Vigilance Inspector Ram Naresh Rathore.
On December 5 last year, the UP government had given its nod to the lodging of cases against 21 people, including Siddiqui and Kushwaha, in connection with the alleged scam in construction of memorials in the name of Dalit icons during the previous BSP regime.
Besides the two ministers, officials of Rajkiya Nirman Nigam and others were indicted by Lokayukta N K Mehrotra in his report submitted in May last year.
The Lokayukta had indicted 199 persons, including the two ministers, a sitting Member of Legislative Assembly, several officers and engineers for the alleged irregularities.
In his report, the Lokayukta had said that irregularities to the tune of more than Rs 1,400 crore were detected -- 34 per cent of the total budget for construction of memorials and parks.
The Lokayukta had recommended filing of FIRs under the Prevention of Corruption Act and under Section 409 of the IPC (criminal breach of trust by public servant) against 19 persons.
For the remaining people indicted in the report, the Lokayukta recommended that their properties be probed and if these were found disproportionate to their known sources of income, FIRs be lodged against them.
Both the ministers are also facing charges of acquiring assets disproportionate to their known source of income.
The UP government has also given its nod for a vigilance inquiry against them in July last year.