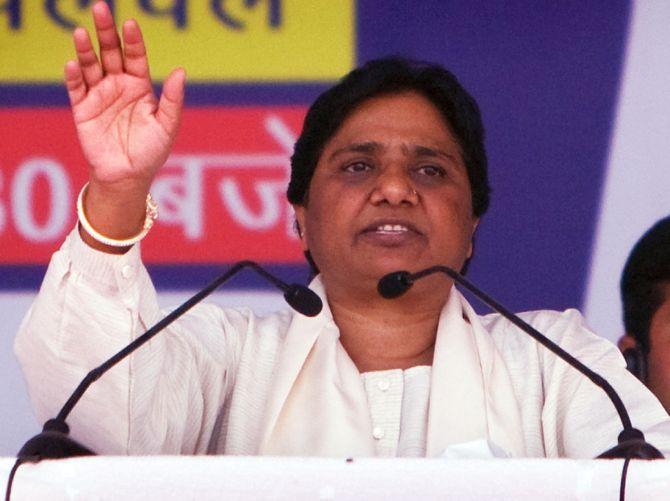 Claiming compliance with the Supreme Court order, Bahujan Samaj Party supremo Mayawati vacated a government house and a portion of the other one she lived in but insisted that the property remained a memorial to party founder Kanshi Ram.
The Bahujan Samaj Party has resisted giving up the bungalow on 13-A, Mall Avenue, saying that it had been converted into a memorial to Kanshi Ram in 2011, and the BSP leader occupied just a small portion of it.
"I am today vacating the portion of 13-A Mall Avenue occupied by me till now," she told reporters.
"From now on, the said bungalow in Lucknow will be a memorial named after Kanshi Ram," she added.
Her insistence on calling the bungalow a memorial makes it unclear whether it will actually be handed over to the estates department.
Maywati had earlier moved out of another bungalow at 6, Lal Bahadur Shastri Marg, which she claimed had been allotted to her in the capacity of a former chief minister.
Former chief ministers Akhilesh Yadav and his father Mulayam Singh also moved to the VVIP guest house after vacating their official residences.
"Mulayam Singh Yadav shifted to the VVIP guest house here yesterday, while Akhilesh Yadav along with his MP wife Dimple and children shifted to the VVIP guest house today. One room each has been allotted to Akhilesh, Dimple and Mulayam," said Chief
Management Officer of VVIP Guest House Rajiv Kumar.
He said all the rooms which have been allotted to them are double-room suites.
The members of Yadav family have been given rooms on the first floor of the VVIP guest house, a senior official said.
Officials also said that as per laid down norms, a room can be booked for a period of only three days. After this application to book a room has to be submitted for extension or re-booking.
Acting on a Supreme Court order last month, the Uttar Pradesh Estate Department issued notices to the former chief ministers asking them to vacate their official bungalows within 15 days that expires on Sunday.
The apex court had on May 7 held that former UP chief ministers cannot retain government accommodation after demitting office.
The estate department had issued notices to six former chief ministers - Narayan Dutt Tiwari, Mulayam Singh Yadav, Kalyan Singh, Mayawati, Rajnath Singh and Akhilesh Yadav - to vacate their official bungalows in compliance with SC the order.
While Akhilesh and Mulayam have shifted to the VVIP guest house, Tiwari is yet to do so with his wife Ujjwala Tiwari seeking more time from the estate department, pleading that her husband was in the "last stages" of his life.
A board reading 'Pandit Narain Dutt Tiwari Sarvjan Vikas Foundation' has been fixed outside Tiwari's Mall Avenue bungalow it in an apparent bid to save it.
Union Home Minister Rajnath Singh, who is also the local MP, has shifted from his bungalow at 4, Kalidas Marg, just next to the residence of the chief minister, to his residence on 200 square metre plot at Vipul Khand in posh Gomti Nagar here.
Rajasthan Govenor Kalyan Singh's belongings have been moved to the official bungalow of his grandson Sandeep Singh, who is a minister in the Yogi Adityanath government.
The Supreme Court's order came on a public interest litigation filed by NGO Lok Prahari following an amendment passed by the UP Assembly which allowed all the former chief ministers to occupy government bungalows for lifetime.
The apex court had also struck down the amendment to the legislation which allowed them to retain government accommodation even after demitting office.
The bench had said the amendment was "arbitrary, discriminatory" and violated the concept of equality and added that once such persons demit public office, there is nothing to distinguish them from the common man.
The NGO had challenged the amendment made by the erstwhile Akhilesh Yadav government to the UP ministers (Salaries, Allowances and Miscellaneous Provisions) Act, 1981.