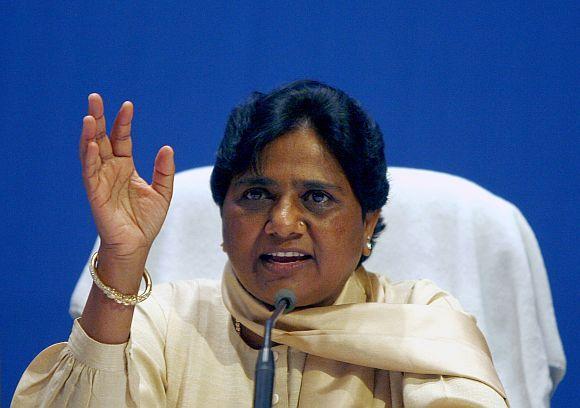 The Bahujan Samaj Party will not contest by-elections for 12 seats in Uttar Pradesh, which will fall vacant due to the legislators being elected as members of Parliament, party supremo Mayawati said on Friday.
"Generally, in by-elections, Central Election Commission is not involved directly. Due to this, the ruling Samajwadi Party had misused official machinery in these elections. That is why we will not spend our energy in by-elections," Mayawati said.
"We will do preparations for assembly polls. There is a possibility that this SP government may fall within a year and mid-term polls will be held," she said.
Mayawati said at present, she would remain in Delhi and strengthen the party in the states where elections are due in the next two years.
In Uttar Pradesh, 12 legislators -- 11 of Bharatiya Janata Party and one from its ally Apna Dal -- have been elected as MPs in the recent Lok Sabha polls and so by-elections are due in the near future.
© Copyright 2022 PTI. All rights reserved. Republication or redistribution of PTI content, including by framing or similar means, is expressly prohibited without the prior written consent.