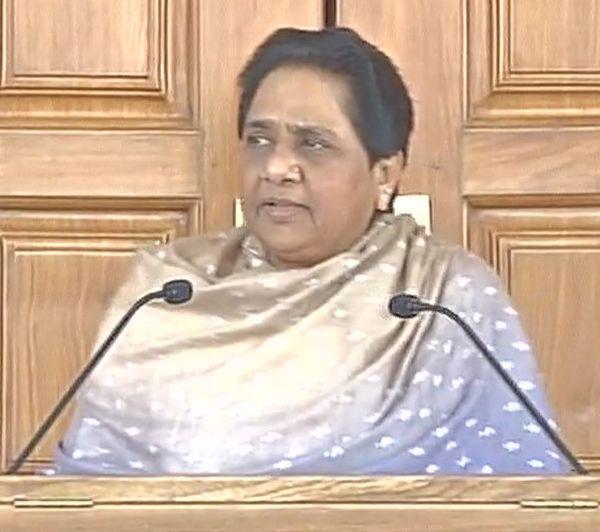 A day after Enforcement Directorate detected cash deposits totalling over Rs 104 crore in an account belonging to her party, Bahujan Samaj Party supremo Mayawati on Tuesday charged the Centre with misusing official machinery and trying to tarnish the party's image.
At a hurriedly convened press conference, the former Uttar Pradesh said, "All deposits are as per norms and party rules and the money was collected before note ban. Should we have thrown it?"
Terming the issue as an effort to tarnish BSP's image ahead of UP assembly elections just few months away, Mayawati said the "anti-Dalit" Bharatiya Janata Party managed a section of the media.
"After I exposed the conspiracy of BJP in forcing an alliance between Samajwadi Party and Congress on Monday, BJP was taken aback and out of sheer frustration it indulged in such a petty act against BSP and family members of the party chief," she
said.
On the deposits, she said, "We have account of every rupee deposited in bank... this money has been collected through membership fee all over the country and brought for deposit by converting it into big denomination notes as it is easy to carry from remote areas."
Mayawati, however, said this action of BJP is a "good omen" for her party as in 2007 too when the then BJP government at the Centre had raked up the Taj corridor issue, it had helped her get absolute majority in the UP assembly.
"If Modi and central government take a few more decisions like note ban, it will make our return to power in UP easier... they will pave our way for an easy victory and I will not have to toil much... I want to thank them for it," she said.
The ED on Monday detected cash deposits totalling over Rs104 crore in an account belonging to the BSP and Rs 1.43 crore in an account belonging to Mayawati's brother Anand in a branch of United Bank of India in Delhi during a routine survey and enquiry operations to check suspicious and huge cash deposits in banks post-demonetisation.
Accusing the BJP of twisting facts while presenting routine deposits of her party and that of her brother, who is involved in his own business, Mayawati said there was, however, no talk about deposits of BJP and other parties made post-demonetisation.
"BJP and other parties have also deposited their money in banks. Nobody is talking about that," she said, adding it only went on to prove the "anti-Dalit and casteist mentality" of BJP.
Targeting Prime Minister Narendra Modi, she demanded that he should make public the deposits made by BJP during the 10 months prior to November 8 decision of banning Rs 1,000 and Rs 500 currency notes.
"If BJP and the PM have any truth and honesty, they would have disclosed BJP's deposits 10 months before November 8 and after that date while making BSP's deposits public," she said.
The BSP chief said she has information that there could be a similar move against important people of her party to make them ineffective and warned that such actions reflecting political vendetta will not be of any help.
Mayawati, who has been targeted for Taj Corridor scam in the past, said, "If there was any wrongdoing it was at the level of the central government led by BJP or the central government agency which carried out the works.
"Amit Shah keeps on referring to Taj Corridor in his speeches... it seems he was sleeping when BSP leader Satish Misra explained it of the Rs 175 crore project, works were carried out only worth Rs 17 crores...neither any file was put up before me nor did I sign any paper," she claimed.
Alleging that the Taj case was always raked up at election time by the party at the top at the Centre, especially by BJP, she said efforts had been made to show as if the BSP chief has committed a "big scam".
"The same was done before 2007 assembly polls and this time too... BJP will gain less and lose more... this time again people will reject them and results are going to be like that in 2007 when BSP got absolute majority," she claimed.
"BJP leaders having casteist mentality do not want that a 'dalit ki beti' should get the master key of the biggest state's politics and work for the welfare of 90 per cent poor and deprived...it will bring an end to their capitalist politics," she said.