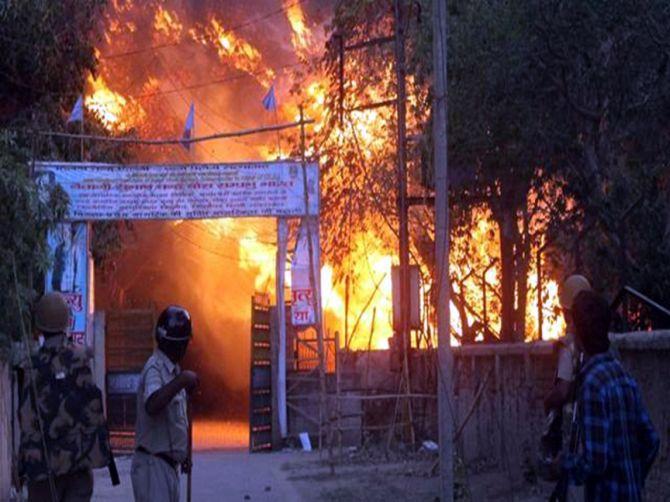 The Akhilesh Yadav government on Friday came under attack over Mathura violence from opposition parties which questioned the law and order situation in Uttar Pradesh, where elections are due next year, and alleged that encroachers were enjoying political patronage.
Bahujan Samaj Party supremo Mayawati said the Samajwadi Party government should resign taking responsibility for the 'unfortunate and painful' incident and demanded a time-bound judicial inquiry.
The Bharatiya Janata Party sought a Central Bureau of Investigation probe and claimed the incident reflected the 'lawlessness' in the state.
The Congress said that it was time that the SP government 'came out of its slumber' but added that 'there should be no politics over the dead'.
"Mathura incident is entirely because of intelligence failure. Timely assessment was not done as to how many people were present at the spot and what firearms they possessed. Chief Minister Akhilesh Yadav cannot escape moral responsibility," state BJP spokesman Vijay Bahadur Pathak said, adding, "This state government has become a blot and people will get rid of it."
BJP national secretary Shrikant Sharma alleged, "The main conspirator in the case has full protection of the Samajwadi Party. Policemen were sent to the spot with their hands tied and this is why two of them died."
Congress spokeperson Randeep Singh Surjewala said the Samajwadi Party government should take steps to address the serious situation.
However, he asserted that it was not the time 'to score political brownie points' and efforts should be made to swiftly bring the guilty to book and provide succor to the affected.
"The BJP should remember that instead of playing politics over dead, the important thing is to ensure peace is restored, that people who have occupied government land are punished, murderers are brought to book and the Akhilesh government wakes up from its slumber and takes decisive action," he said.
Senior Uttar Pradesh minister Shivpal Singh Yadav said there should be no politics over the incident.
"Politics should not be done over the dead," Yadav said, even as Samajwadi Party MP Naresh Agarwal said it was easy to blame any government.
"It is very easy to blame a government. But this government is doing its job," Agarwal, whose son is a minister in the Akhilesh Yadav government, said.
Meanwhile, Governor Ram Naik, who is in Mumbai, sought a detailed report on the matter from the chief minister and a proper inquiry to nail the culprits.
Mayawati said it was a serious incident and an inquiry by divisional commissioner was just a mere formality.
"The criminal mentality of SP government is directly responsible for violence, therefore a time bound judicial probe should be conducted so that truth is revealed," she said.
"The incident is painful and serious. It is shameful for the SP government. The SP government's policy of anarchy is responsible for this unfortunate incident," the BSP chief said.
She claimed that the death of two policemen proves that due to lax policies of the government, departments especially police, were finding themselves helpless in executing their legal duties.
The BSP supremo said the biggest fault of the SP government was as to how it allowed such encroachment for two years.
"Will giving ex gratia compensate the families of two officers killed in the violence? If the SP government thinks so, it is wrong," she said.
Image: Security forces trying to evict violent protesters from a land they encroached upon in Mathura on Thursday. Photograph: Sandeep Pal
© Copyright 2021 PTI. All rights reserved. Republication or redistribution of PTI content, including by framing or similar means, is expressly prohibited without the prior written consent.