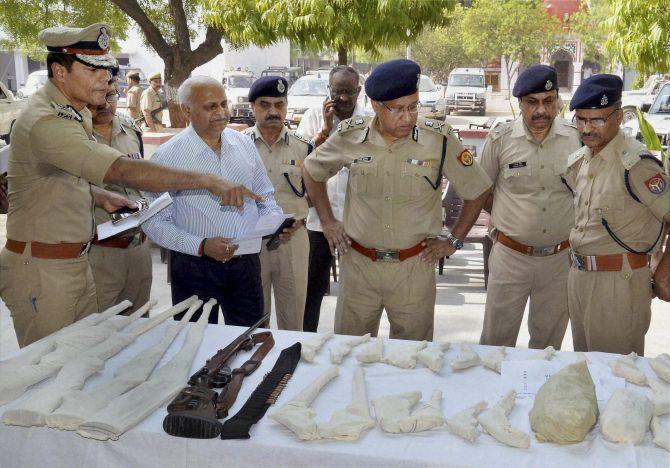 IMAGE: UP DGP Javed Ahmed look at the arms recovered from the Jawarhar Bagh encroachers, in Mathura on Friday. Photograph: PTI Photo

The members of a sect who had encroached on government land at Jawahar Bag area in Mathura and indulged in violent clashes with police will be booked under the stringent National Security Act, Uttar Pradesh Director General of Police Javed Ahmad said on Friday.
"The leaders of the sect 'Azad Bharat Vidhik Vaicharik Kranti Satyagrahi' -- Ram Vraksha Yadav, Chandan Gaur, Rakesh Gupta and others will be booked under the NSA," he told a press conference.
A total of 24 people, including the city superintendent of police and a station house officer, were killed in clashes between police and members of the sect who had encroached on government land on Thursday.
Tension prevailed in the area with police seizing a large cache of ammunition from the site and arresting 320 people.
"Among the 24 killed, two policemen were shot dead and 11 were burnt to death due to cylinder blasts. The encroachers had set on fire the huts where bombs, explosives and gas cylinders were stored, before retreating from the site," Ahmed said.
"After the blast, few encroachers were hurt and finally succumbed to their injuries. Since people of neighbouring area were fed up with the activities of the encroachers, they were severely beaten by the residents of the area when they were retreating," he said.
The UP DGP said efforts were on to arrest the absconding encroachers.
He said the identity and other important data about the encroachers can be determined from their registration certificates.
"While 124 people have been arrested for the clashes under relevant Sections of the Indian Penal Code, 80 men and 116 women were booked under Code of Criminal Procedure Section 151 (arrest to prevent the commission of cognisable offences)," he said.
The DGP said 47 country-made pistols, six rifles, 178 live cartridges, 15 four wheelers and six two-wheelers were recovered from the site of the clashes.
Ahmad said the police party had gone to the site on a recee but the encroachers, who were climbing on the trees, started indiscriminate firing, brickbatting and lathi-charging on the police party.
"The encroachers have been dispossessed from Jawahar Bag," he said.
Principal Secretary Home Debashish Panda, special secretary Mani Shankar, Additional Director General Law and order Daljeet Chaudhary and Senior Superintendent of Police Mathura Rakesh Singh were also present in the press conference.
The UP DGP said all help will be provided to the bereaved families.