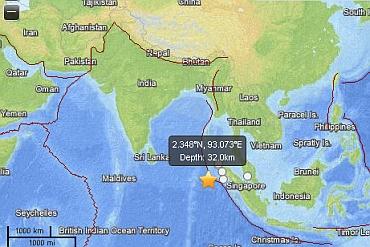 A massive earthquake of 8.7 magnitude hit waters off Indonesia triggering tsunami fears across the Indian Ocean nations, including India, reviving memories of the 2004 devastation that had claimed tens of thousands of lives in the region.
The quake struck off Indonesia's Sumatra island, US and Indonesian monitors reported, prompting an Indian Ocean-wide tsunami alert.
The tremors were felt far and wide in southern and eastern parts of India, Sri Lanka, Australia, Thailand, Singapore and Malaysia. The quake's magnitude was 8.7 on Richter scale and it struck 431-kilometres off the Indonesian city of Banda Aceh.
In India, tremors were felt in Tamil Nadu, Kerala, Karnataka, Andaman and Nicobar islands, Assam and West Bengal.
Banda Aceh in Indonesia was near the epicentre of a devastating 9.1-magnitude quake in 2004 that triggered a tsunami across the Indian Ocean, which killed 220,000 people, including 170,000 in Aceh.
Residents in Banda Aceh reported the ground shaking violently. The ground shook for nearly five minutes with telephone connections going down briefly. Terrified people left their dwellings and ran for cover.
People were trying to leave affected area, with whatever modes of transport available. Traffic jams were seen everywhere.
US monitors issued an Indian Ocean-wide tsunami watch but said it was not yet certain a giant wave had been generated.
"Earthquakes of this size have the potential to generate a widespread destructive tsunami that can affect coastlines across the entire Indian Ocean basin," the US Pacific Tsunami Warning Center said.
With tremors felt in Thailand, Singapore, Malaysia and Sri Lanka tsunami warnings have been issued.
A big tremor was felt in the island resort of Phuket in Thailand. Phone lines to the area are jammed. At least one luxury hotel was evacuating people to higher ground.
Savita Sriram, who is in Phuket with her family, said she was on her way to a swimming pool at a club when she saw people running out as the strong tremor had caused a lot of water to fall off the pool. "apparently the pool shook so hard that a lot of water sloshed out" she told PTI via SMS.
She said that "everyone is awaiting for tsunami warnings or clearance".
Meanwhile, Sri Lanka issued a tsunami warning across the island and asked residents in the coastal belt move inland.
"We advise people to move inland at least a kilometer from the coast", a disaster management centre official said.
Officials said if the quake in Sumathra triggered a tsunami, Sri Lanka's southern coastal Dondra should experience it by 1609 IST.
The quake in Indonesia was felt in Sri Lanka as people moved out of buildings around 2.15 local time.
Two thirds of Sri Lanka's coastal belt was devastated by the December 2004 Tsunami which killed over 30,000 people.
India has also issued tsunami warning for Nicobar islands following massive earthquake off Sumatra coast.
Initial reports suggest coastal regions of Tamil Nadu, Andhra Pradesh and Andaman islands also put on alert following the Sumatra quake.
Tremors were felt in Chennai, Bangalore, Thiruvananthapuram and several other cities across South India following the 8.9 magnitude earthquake in Indonesia.
Areas near Marina Beach Road in Chennai have been alerted in the wake of several coastal regions of Tamil Nadu, Andhra Pradesh and Andaman and Nicobar Islands being put on alert, police said.
There were no immediate reports of damage to property or loss of lives.
In December 2004, killer Tsunami waves devastated several coastal areas of Tamil Nadu and hit Marina Beach here, causing heavy casualties.
In Kerala, people in Thiruvananthapuram and Kochi experienced slight tremors.
The country's IT capital Bangalore also experienced mild tremors, police said. People rushed out of houses and high rise office buildings in panic in these cities.
India on Wednesday issued a tsunami warning for Nicobar islands and alerted the coastal regions of Tamil Nadu and Andhra Pradesh after an earthquake of 8.9 magnitude hit waters off western coast of northern Sumatra.
"We have issued a tsunami warning for Nicobar islands," Shailesh Nayak, secretary Ministry of Earth Sciences told PTI.
The projections issued by the Indian Tsunami Early Warning Centre showed the tidal waves triggered by the quake hitting parts of Nicobar, Komatra and Katchal minutes after it struck the region at 14:08 IST.
The ITEWC also issued an alert for coastal Tamil Nadu, Andhra Pradesh and the Andaman islands forecasting the arrival time of the first wave.
For Tamil Nadu, the first wave was expected to reach the coastal regions at around 4:33 p.m.
Strong tremors were felt in Chennai and some other nearby areas. People in multi storeyed apartments and those working in high rise buildings rushed out to open areas.
Kolkata and its neighbourhood were arocked by tremors which were also felt in North 24 Parganas adjoining Kolkata and in the north Bengal town of Siliguri.
A large number of people rushed out of offices in Park Street and downtown BBD Bagh area in Kolkata as windows and doors rattled. According to reports, some buildings on Park Street developed cracks.
Metro Rail services in the metropolis were suspended from 2:42 pm and passengers were asked to vacate stations.
The Pacific Tsunami Warning Center in Hawaii said a tsunami watch was in effect for Indonesia, India, Sri Lanka, Australia, Myanmar, Thailand, the Maldives and other Indian Ocean islands, Malaysia, Pakistan, Somalia, Oman, Iran, Bangladesh, Kenya, South Africa and Singapore.
Meanwhile, the government evacuated some people from South Andaman as a precautionary measure, sources said.
As of now there are no signs of tsunami, Home Secretary R K Singh said. The Centre is in constant touch with Andhra Pradesh, Tamil Nadu and Odisha governments, he added.
Image: Map showing the epicentre of the earthquake