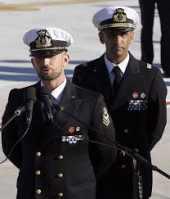 Faced with severe criticism after Italy refused to send back two marines accused of killing Indian fishermen, the Congress-led United Progressive Alliance government may take a hard stand and expel Rome's envoy in New Delhi Daniele Mancini.

A day after Italy refused the return of its two marines, facing a murder trial in India for killing two fishermen, Foreign Secretary Ranjan Mathai summoned Italian ambassador in New Delhi on Tuesday to convey its collective decision that ''contents of note is not acceptable'' to India.

"We summoned the ambassador of Italy. I summoned him to my office and basically what I told him is that the contents of note, which was given to us conveying the position of the government of Italy regarding the two marines is not acceptable to us," said Mathai after meeting the Italian ambassador to India Daniele Mancini in his office in New Delhi.

The two Italian sailors Massimiliano Latorre and Salvatore Girone, members of a military security team protecting a cargo ship from pirate attacks, are accused of shooting the fishermen they say they mistook for pirates off the Kerala coast in February last year, sparking a diplomatic row between New Delhi and Rome.

The Italian foreign ministry said on Monday the two Italian sailors will not return to India at the end of their home leave.

The Supreme Court had granted their request on February 22 to exercise their right to vote, for which they arrived in Italy on February 23, a day before the country's election, and can make their stay in Italy for four weeks as per the apex court order.

"As far as we are concerned, Italy is obliged under the terms of that assurance to ensure that the two marines return in the time frame given by the Supreme Court. Basically that is the position I took in the meeting I had when I summoned the ambassador of Italy a little while ago," said Mathai.

Earlier in the day, India had said it would take a collective decision to respond to the message, which it received from the Italian embassy.

Italian foreign ministry had said India had not responded to its requests to seek a diplomatic solution to the case and there was now a formal dispute between the two countries over the terms of the UN Convention of the Law of the Sea.

"I know it's a Supreme Court's decision but it's also a matter of our country's collective decision. We can't pass the ball onto anybody. Let's just read what is said, let's understand their position and we will respond. We will let you know what exactly," said External Affairs Minister Salman Khurshid.
In the meanwhile, lawmakers from Kerala met the Indian Prime Minister Manmohan Singh in New Delhi on Tuesday demanding justice for the dead fishermen after Italy refused to send back its two marines facing murder trail in India.

The incident has caused a serious diplomatic dispute between Italy and India, which have traditionally had good relations.

Image: The two Italian sailors Massimiliano Latorre and Salvatore Girone are accused of shooting the fishermen they say they mistook for pirates