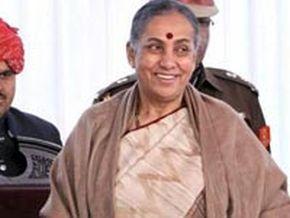 Rajasthan Governor Margaret Alva will be sworn-in as Governor of Goa on Saturday after predecessor B V Wanchoo resigned last week. Chief Justice of Bombay High Court, Mohit Shantilal Shah will administer the oath of office to the Governor at Durbar hall of the Raj Bhavan at 6 pm on Saturday, according to a statement issued by the state government.
Alva, was given the additional charge of Goa after Wanchoo resigned on July 4, a day after the Central Bureau of Investigation quizzed him in VVIP chopper deal case. He was appointed in Goa on May 4, 2012.
A lawyer and former parliamentarian, Alva is credited with steering several landmark legislations through the Parliament to improve the position of women in society and polity.
Beginning her political career as the only woman Block President in Karnataka after the split of 1969, she went on to head the Congress party's women's wing in Karnataka in 1972.
She soon moved on to become the General Secretary of the Karnataka Pradesh Congress Committee.
Two years later, Alva was elected to the Rajya Sabha. She was appointed Union Minister of State for Parliamentary Affairs in the Rajiv Gandhi Government in 1984, later moving to the Ministry of Human Resource Development in charge of Youth Affairs and Sports, Women and Child Development.
In 1991, she was appointed Union Minister of State for Personnel, Pensions, Public Grievances and Administrative Reforms (attached to the Prime Minister).
Alva also simultaneously served as General Secretary of the All India Congress Committee for five years. On completion of this assignment, Alva was appointed the Governor of Uttarakhand in 2009. She moved to Rajasthan as Governor in 2012.