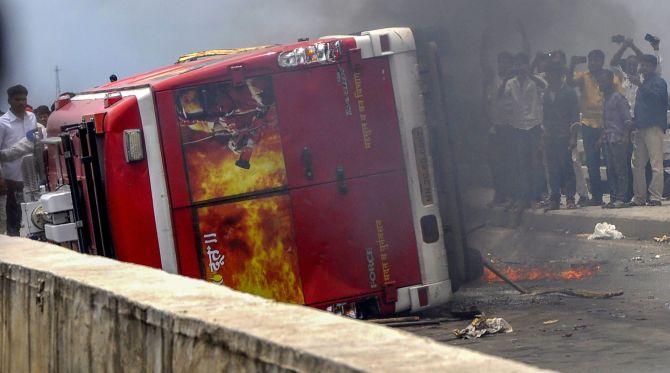 A day after arson and stone-pelting in parts of Pune over the Maratha reservation issue, the police on Tuesday booked '4,000 to 5,000 people' and said the violent protests caused loss of property to the tune Rs 10 crore.
Over 60 vehicles, including public transport buses, were vandalised and torched by protesters during violence in Chakan, an industrial hub 40 km from Pune, where life is slowing signs of returning to normal.
Its surrounding areas also saw arson and stone pelting, while the Pune-Nashik highway remained blocked for several hours.
A process is on to identify miscreants who resorted to violence in Chakan. CCTV cameras and video footage are being scanned to identify arsonists and rioters, police said.
"Cases have been registered against 4,000 to 5,000 unidentified people for the Chakan violence under various sections of the Indian Penal Code, the Highway Act, 1956, the Green Tribunal Act and the Public Property Damage Act," said a senior police officer.
A financial loss of Rs 8 to Rs 10 crore has been estimated due to the violence during which mobs targeted state transport buses, police as well as private vehicles, he said.
"With the help of CCTV footage and video clips, so far 25 people have been identified who resorted to violence on Monday," said the officer.
He said after the police appealed to local residents to hand over CCTV footage or video clips of the violence, a lot of people approached them with such material.
"With the help of locals, the process of identifying hooligans is going on," the officer added.
He, however, said so far no one has been detained.
Meanwhile, a police constable, who had received serious head injuries during the violence, was shifted to a city-based private hospital and is said to be out of danger.
Nearly half a dozen police officials, including Deputy Superintendent of Police Ganpat Madgulkar and inspector of the Chakan police station, Dhanyakumar Godse had sustained minor injuries, police had said on Monday.
Sandip Patil, Superintendent of Police, on Monday said some 'anti-social elements' had infiltrated the Maratha quota agitation in Chakan, which was peaceful initially.
"The agitation was peaceful till 12.30 pm. However, the mob later split into small groups and some anti-social elements started damaging vehicles," Patil had said.
He had said they suspect some miscreants from the adjoining areas and districts could have joined the peaceful protests in order to disrupt them.
Patil had said the police contained the violence after additional enforcement was rushed to Chakan. The officer had said some hooligans were carrying fuel cans and shovels with them which show the violence was 'pre-planned'.
A day after the violence, the situation in Chakan was returning to normal with traders opening their commercial establishments and vehicles getting back on roads.
However, some schools, colleges and APMC market for onion and potato remained closed.
Meanwhile, the Maratha Kranti Morcha, spearheading the agitation, today admitted that 'outside elements' had sneaked into the agitation and resorted to violence in Chakan.
"We appeal to people not to take resort to violence. We also appeal the youth from the community not to take any drastic step," said Rajendra Kondhare, a convener of the Maratha outfit.
Kondhare's appeal came in the backdrop of protesters committing suicide over the quota issue.
The politically influential Maratha community, constituting around 30 per cent of the state's population, has been agitating for reservation in government jobs and education.