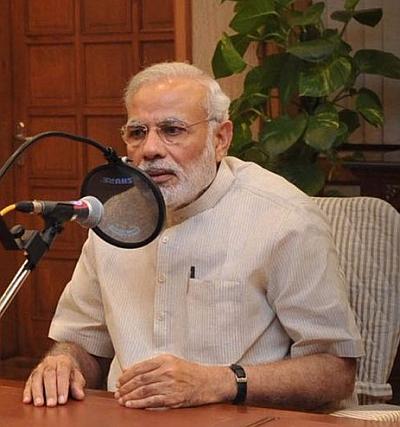 Digital payment can check black money and play a key role in fighting graft, Prime Minister Narendra Modi said on Sunday as he asked the youth to become an "anti-corruption cadre" as part of the "cleanliness" drive.
Addressing his monthly Mann ki Baat radio programme, he said people, especially the youth, should become ambassadors of digital payment schemes rolled out by the government.
"Lead this movement. Take it further as it has a very major and prominent role in the fight against corruption and black money. To me, each and every individual involved in this mission constitutes a new anti-corruption cadre in the country. In a way you are a soldier in the cause of cleanliness and purity," the Prime Minister said.
He said gradually people are "shedding their hard currency mindset" and moving towards digital currency and the youth are leading the way using their mobile phones as the new tool to make and receive payments.
In the last two months, 10 lakh people have been rewarded, over 50,000 traders have won prizes and an amount of over Rs 150 crore has been earned as prize money by people who have promoted and carried forward the digital payment campaign, Modi said.
He said the digital payment schemes will complete 100 days on April 14, the 126th birth anniversary of B R Amdedkar and people should help 125 people download the Bhim application on their mobile phone for digital transactions.
Referring to his favourite Swachh Bharat campaign, he said "psychological barrier" should not come in the way even while cleaning toilets. Some senior bureaucrats had recently demonstrated on how to clean a 'twin pit' toilet, he said.
"They also displayed as to how convenient these new technique toilets are and that there is absolutely no inconvenience and there should be no hesitation in emptying or cleaning these toilets and even the psychological barrier should not come in the way at all," he said.
Modi also used the opportunity to congratulate 'divyang' (physically challenged) players for defeating Pakistan in the final of the Blind T-20 World Cup.
Referring to the role of women, he said be it the field of sports or space science, they lag behind in none. The 'Beti Bachao, Beti Padhao' programme is no longer just a government programme, but has become a campaign of societal empathy and public education, he said.
"This, I believe, is a healthy sign," he added.
Hailing the scientific community for the record launch of 104 satellites and the successful test-firing of the new interceptor missile, Prime Minister Modi said that India needs more scientists to harness technology for the benefit of the common man.
"The attraction for science among our young generation should increase. The country needs more scientists. When science is harnessed keeping in mind the needs of the common people, it becomes the most valuable contributor to general humanity," he said.
Referring to a recent competition organised at the 14th Pravasi Bharatiya Diwas, he said socially useful innovations were showcased and one of these was an application developed to help fishermen locate the most productive fishing zones and get updates about weather and sea conditions.
"There are times when a problem portrays the importance of science for finding a solution," Modi said referring to the 2005 Mumbai floods which led to development of a dwelling structure that saves its occupants and prevents water-logging.
Referring to the 38th successive successful launch of PSLV rocket that placed a record 104 satellite in orbit, Modi said ISRO scientists have brought laurels to the nation. He said the ISRO team had several young scientists, including women.
"After the successful mission of sending Mangalyaan to Mars, ISRO scripted a world record in the arena of space. ISRO has successfully launched 104 satellites simultaneously into space.
"These satellites belonged to various countries...India has created history by becoming the first country to launch successfully 104 satellites into space in one go," he said.
He noted that one of the satellites launched by PSLV is Cartosat 2D, which has become operational and will be of great help in mapping of resources and infrastructure and planning for urban development.
On the successful test-firing of a ballistic interceptor missile, he said that it destroyed an 'enemy' missile at an altitude of around 100 km above the earth surface. Hardly four or five countries in the world possess this capability, he said.
In his over 30-minute address, Modi also lauded the role of the farmers for record production of food grains this year.
"Our farmer brothers and sisters have toiled hard to fill our granaries. The hard work of the farmers has resulted in a record production of food grains. More than 2,700 lakh tonnes of food grains have been produced in the country this year. This is eight per cent more than the last record set by our farmers," the Prime Minister said.
He also thanked the farmers for cultivation of various types of pulses. "I am happy that the farmers heeded the needs of our poor people and cultivated various types of pulses on about 290 lakh hectares of land," he said, adding that it will help provide required protein input to the poor.