The Manipur government's plan to carve out 7 new districts in the hill areas has ignited old resentments between Naga and non-Naga ethnic groups, leading to clashes and a month-long economic blockade.
Supratim Dey reports.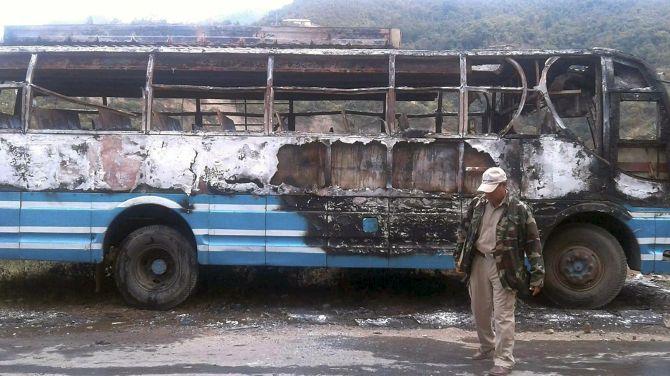 The prices of essential commodities such as petrol, diesel and LPG have shot up in Manipur because of the month-long economic blockade arising out of the state government's decision to create seven districts and the resultant ethnic conflict.
The blockade is on its two national highways, by which goods are ferried to various parts of the state. Railway penetration in Manipur is negligible.
The valley districts, in which Imphal falls, have been affected. There have been violent protests against the blockade in the Imphal valley.
Protesters blocked the roads towards the hill districts. On December 18, in the Imphal valley, 22 vehicles were burned.
Reports said vehicles carrying Nagas were targeted. Curfew had to be imposed successively in many areas.
Blockade-supporters in the hill districts, on their part, have torched trucks and set fire to government offices.
The government created seven districts by realigning the boundaries all the five hill districts and two valley districts.
The Nagas did not like the decision and said the idea was to divide them. They complained that their Hill Area Committees were not consulted by the state government in this matter.
The state government's position that the decision was an administrative one could not mollify the Nagas.
Manipur's ethnic communities include the Meities, residing in the valley, and the Nagas, who are mostly in the hill districts, which encircle the valley.
Most of the chief ministers of the state have been from the Meiti community.
The two communities have a history of discord, in which the reasons for the current unrest lie.
The Hill Area Committees have constitutional sanction and have been formed to protect the rights of the hill people. The legal stipulation is that they must be consulted on matters relating to the tribal people of Manipur.
On November 1, the United Naga Council, the umbrella organisation of the Naga community, had imposed an indefinite economic blockade on NH 2 and 37.
The two NHs, which enter Manipur from Nagaland and Assam, respectively, pass through the hill districts before reaching the valley.
The UNC on Sunday demanded President's rule in the state.
Meanwhile, Nagaland Chief Minister T R Zeliang asked both the Centre and the state government to ensure that the Nagas were safe. He has sought the Centre's intervention in defusing the crisis.
IMAGE: A charred bus burnt down by United Naga Council supporters at Senapati, Manipur. Photograph: PTI Photo