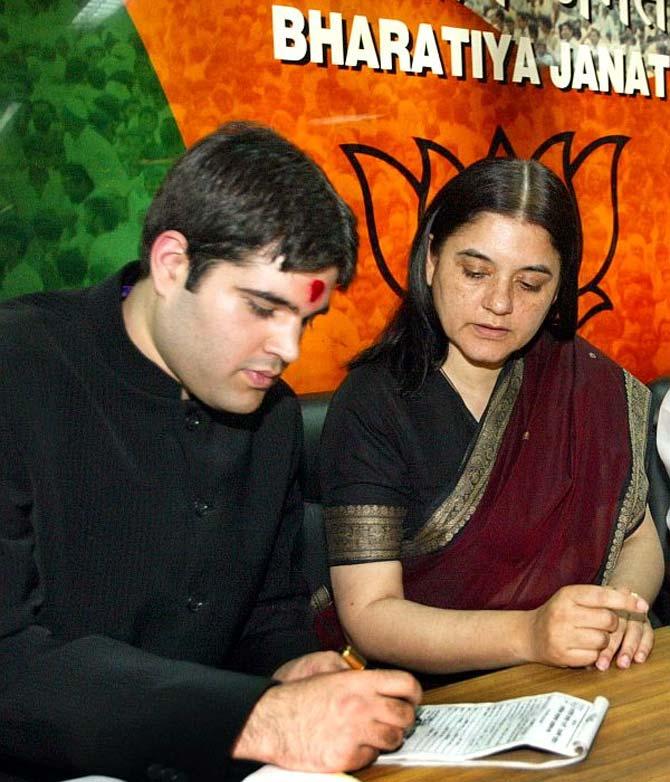 When Union Minister Maneka Gandhi sought to project her son Varun as a possible future chief minister of Uttar Pradesh last Sunday, it was widely seen as an attempt to claim Sanjay Gandhi's legacy. Anita Katyal reports
Speaking at a public meeting in her constituency Pilibhit, Maneka had said, "The Samajwadi Party government is stalling development work in this area. Mulayam Singh Yadav is punishing people for electing the BJP. It would have been better if we had a BJP government in the state. Then we would have got development work done with full authority. It would have been even better if Varun led that government in the state."
As soon as she finished her speech, the crowds started raising slogans such as "Hamara CM kaisa ho Varun Gandhi jaisa ho." Maneka's statement drew a sharp reaction from the Bharatiya Janata Party's Uttar Pradesh president Laxmikant Bajpai although party leaders in Delhi remained maintained a studied silence on this issue.
While there is no official reaction to Maneka's statement, it has triggered a discussion on Varun's capabilities which often digresses into a comparison between him and his late father Sanjay who led the Congress to an astounding Lok Sabha victory in 1979 and followed these by equally impressive wins in states like Uttar Pradesh.
And in true Congress-style, there was an immediate clamour from sycophantic party leaders that Sanjay should take over as Uttar Pradesh chief minister. "Sanjay was a natural leader....he had fire in his belly. Varun is not in the same league… at least, not yet," remarked a Congress leader, who was known for his proximity to Sanjay.
Varun, according to him, has to first emerge from the shadows of the BJP and prove himself as a leader. Even the rabid speeches made by Varun in the course of the 2004 Lok Sabha election were more in the nature of projecting himself as a tough-talking leader, he added.
According to former hockey champion and Congress MP Aslam Sher Khan, Varun has been given everything on a platter though the only positive thing about him is that unlike Rahul Gandhi, he is not a reluctant politician.
Varun's projection as Uttar Pradesh chief minister has also dredged up memories about Sanjay Gandhi's short-lived political career, which is remembered chiefly for the excesses committed by him during the Emergency in 1975 when all opposition leaders were jailed and press was censored.
Known as the second most powerful person in the country and described as an 'extra-constitutional authority', Sanjay Gandhi yielded immense political power in the Indira Gandhi-led government by virtue of being her son.
Chief ministers and ministers lined regularly at his durbar for orders and he even influenced official appointments and cabinet decisions even though he was not an elected member of Parliament. It was acknowledged then that Uttar Pradesh Chief Minister H N Bahuguna was removed at Sanjay's behest because he was not perceived to be a loyalist.
In fact, Sanjay struck terror among the people because of the ruthless manner with which he enforced his will with the help of a group of sycophants. The sterilisation and slum clearance drives ordered by him wreaked havoc in the country.
But Indira Gandhi was powerless to stop him as she doted on him. She became increasingly dependent on him and it was at Sanjay's instance that she agreed to clamp down internal emergency in the country when a court ruled against her. Sanjay was widely perceived as the political heir of Nehru-Gandhi family even as he first took charge of the Youth Congress and then the main party.
"You cannot imagine what a force the Youth Congress was in those days…. Its members were known as Sanjay's boys and were treated with reverence. Chief ministers would line up to receive a visting Youth Congress president in those days," recalled a senior Congress leader.
But Indira ended up paying a heavy price for these excesses. She suffered a humiliating defeat in the 1977 Lok Sabha elections and Sanjay, who contested from Amethi, also lost. Indira was subsequently subjected to a series of enquiries by the Janata Party for her government's excesses during the emergency period.
Sanjay stood by her during these troubled times and played a lead role in Indira's re-election three years later when the Janata government collapsed under the weight of its contradictions.
Nearly four decades after the declaration of emergency and 34 years after Sanjay was killed in an air crash, Congress members speak fondly about him. Many are full of admiration for him.
"Sanjay is only remembered for his role during the emergency but there was much more to him. We should not forget that it was Sanjay who built the party and made it battle ready for elections after the 1977 defeat," remarked a senior Congress leader.
Sanjay, they said, was clearly the architect of the party's victory as he conducted the election campaign singlehandedly and was responsible for the selection of candidates.
'The admiring minions, the bowing supplicants and the cheering crowds reflected a comeback for Mr Gandhi that in some ways was even more dramatic than his mother's remarkable turn of fortune and return to power,' Michael Kaufman of New York Times wrote after Sanjay's death.

Sanjay's political career was just taking off when he was killed. Had he lived, Congress leaders maintain, he would have certainly become prime minister one day. "He was not meant to be a state chief minister..he appointed chief ministers. Sanjay was meant to play a far bigger role in Indian politics," said a senior Congress leader.