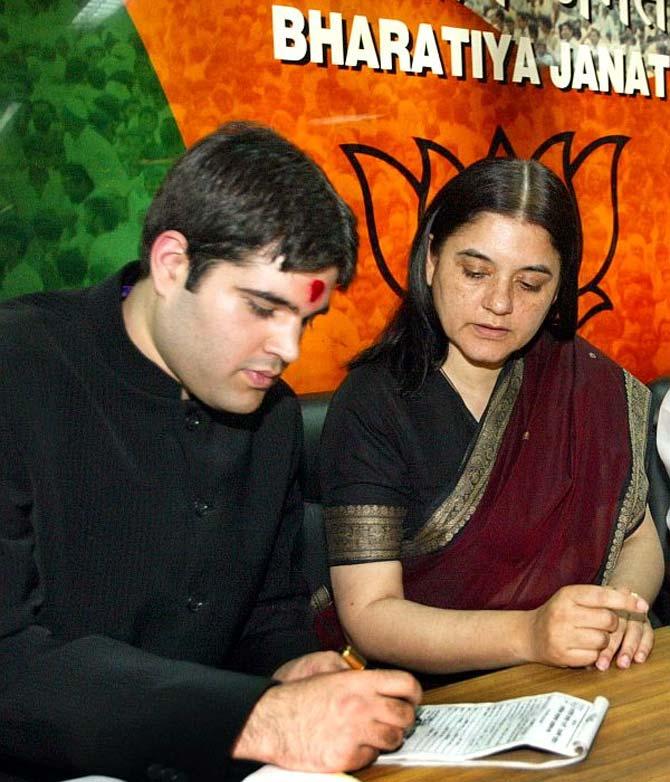 Pitching for her son and Sultanpur member of Parliament, Union Minister Maneka Gandhi has said that Uttar Pradesh would have benefited had there been a Bharatiya Janata Party led government in the state with Varun Gandhi as its chief minister.
"It would have been better had there been our government in the state then we would have got work done authoritatively. It would have been even better if the government would have been run by Varun, in that case Pilibhit should have benefited most," the Women and Child Development Minister said while addressing a meeting in Takia village on Sunday.
On projecting Varun as the state's chief ministerial candidate, Maneka said, "it is a matter of future."
However, BJP state president Laxmi Kant Bajpai said whatever the minister has expressed is her personal view. "In the BJP, the party high command takes such decisions whether it would contest election by projecting a leader as the chief ministerial candidate. Besides its too early to comment," he added.
The meeting was organised by Varun Gandhi Youth Brigade, during which his supporters raised slogans of "Hamara CM kaisa ho, Varun Gandhi jaisa ho (Our Chief Minister should be like Varun Gandhi)".
Maneka, who is the BJP MP from Pilibhit, attacked Samajwadi Party supremo Mulayam Singh Yadav and the Akhilesh Yadav government for "intentionally harassing the people of Uttar Pradesh" after the Lok Sabha elections, in which 71 out of 80 constituencies were clinched by the BJP and Samajwadi Party could only manage to get five seats.
She alleged that BJP supporters and people of the state were being deprived of basic amenities like power, water and road infrastructure after the general election results.
The minister claimed the people would teach the SP supremo a lesson in the next UP assembly elections.
Image: Sultanpur MP Varun Gandhi with mother and Union minister Maneka