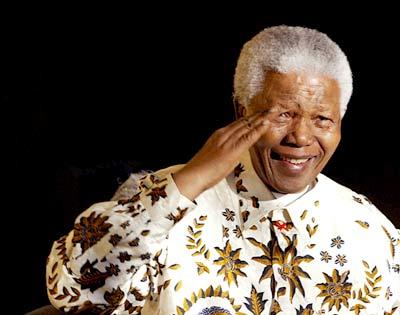 Former South African President Nelson Mandela practised Yoga to deal with the harsh conditions imposed on political prisoners at Robben Island for the more than two decades when he was imprisoned there.
One of the last surviving freedom fighters from that era, Isu Laloo Chiba, shared this in a message to support the Indian missions' plan to celebrate the second United Nations-sanctioned International Day of Yoga on 21 June in South Africa.
Chiba said, he too had found solace by practising Yoga for 40 minutes daily for more than a decade-and-a-half while he was an inmate in the single cells on Robben Island.
"I fully agree that the philosophies and practices of Yoga assist people to be healthy and cultivates a positive attitude," Chiba said.
Mandela died in December 2013 at the age of 95. He spent over two decades (1964 to 1990) in prison and served as President of South Africa from 1994 to 1999.
Activities to mark the occasion have started already, with Yoga gatherings planned at public venues across the country that are expected to attract tens of thousands of people of all races on Sunday, 19 June, as the official IDOY date falls on a Tuesday, when most people will be at work or school, Indian High Commissioner Ruchi Ghanashyam said at the official launch in Johannesburg on Thursday.
"Cricketer Jonty Rhodes, who is involved in cricket in India, has already confirmed his support, as have some leading South African sport and entertainment industry personalities, in order to serve as role models for young people," said Ghanashyam, who expects thousands of people to converge at Johannesburg's huge open space of Zoo Lake for the main event on Sunday.
"Every school of Yoga practised in India will be represented in the South African IDOY," the diplomat added.
Organisers at various other educational and cultural institutions will simultaneously host events on the same day in most major South African cities, some of them offering substantial prizes to participants for painting and essay competitions related to Yoga.
Elisha Sirkissoon from the Art of Living Foundation's African chapter said that the organisation, which had coordinated activities in 15 African countries for the inaugural event last year, is expecting to do so in many more this year.
"In South Africa, we take Yoga to every sector of society, even going to prisons where we teach even maximum security prisoners how to use Yoga techniques to calm their lives and deal with their transgressions to find inner peace," Sirkissoon said, adding that there would be a major event in the mainly Black township of Soweto on 21 June.
Veteran South African-Indian sportsman and community activist Mohan Hira said that it had taken him three days last year to visit all the schools in the huge Indian suburb of Lenasia, south of Johannesburg, to accommodate the requests from schoolchildren to participate in the event.
He said this year, the response so far has been even greater.