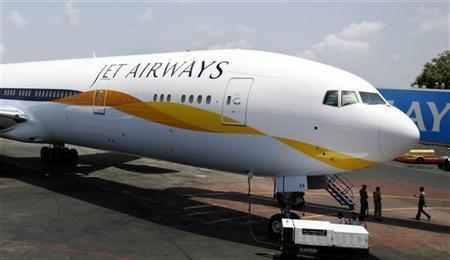 A music channel anchor on Monday set off a hijack and bomb scare on board a Mumbai-bound Jet Airways flight from Kochi carrying 170 passengers and crew after which he was taken into custody along with his male friend, police said.
A spokesman of Cochin International Airport Limited said the man was detained for allegedly shooting a video of the Jet aircraft using a mobile phone and writing a message to say he was going to hijack the plane using a 'happy bomb'.
Police said the Mumbai-based man identified as Clince Varghese, 26, and hailing from Thrissur district was an anchor of a popular music channel and he was detained for questioning along with his 27-year-old male friend. The two men were booked on the flight(9W 825) that was delayed by two hours following the incident, an airport official said.
Varghese shot the video and typed out the hijack threat message when he reached near the aircraft ladder for boarding the flight which was scheduled to leave at 12.05 pm on Monday, the spokesman said.
"Varghese shot the video and wrote the message that he will hijack the plane using 'happy bomb' when he was about to board the flight," he said.
He also informed his friend, who had already boarded the flight, about the message, the spokesman said.
"Suspicious over his activities, Varghese was apprehended by the security staff at the airport," he said. Subsequently, Varghese was offloaded and his baggage was checked thoroughly.
Varghese was later handed over to the police and he is in police custody, he said.
An airport official said a Jet Airways worker overheard Varghese saying he had a 'happy bomb'. The ground staff then told the supervisory officers who in turn informed a personnel of the Central Industrial Security Force and the domestic terminal manager, he said.
During preliminary questioning, Varghese told officials he was expressing his happiness to his friend in Mumbai on Facebook chat, the official said.
Varghese's friend was not allowed to travel in the aircraft, the official said, adding that he was also taken into custody for questioning.
A police officer, who did not want to be named, said that during questioning Varghese claimed that he had said, "Let us hijack the plane with 'happy vibes' but did not elaborate. He said the two men had come to Alappuzha to attend a wedding.
According to the police, Varghese was an "update maniac" who regularly shared pictures on Facebook.
A Jet Airways spokesperson in a statement said the flight took off at 2.05 pm "with a delay of two hours on account of a security-related matter".
"The airline has informed the authority concerned of the same for further necessary action and has offered full cooperation as required," the spokesperson said.