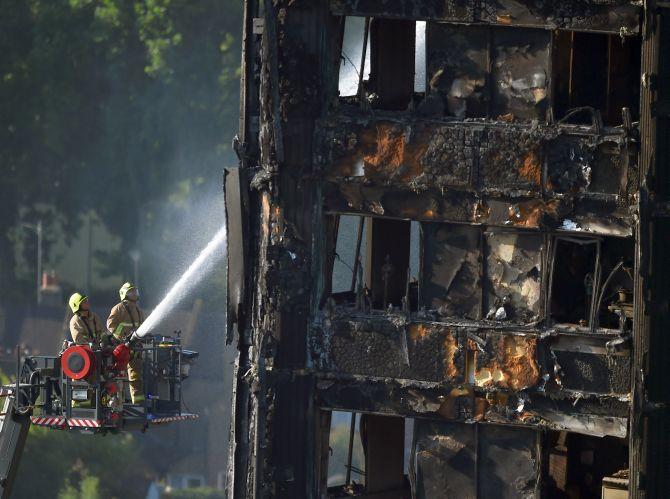 A 43-year-old man has been jailed in the United Kingdom for posting on Facebook a video and pictures of a victim of the massive fire that engulfed a 24-storey residential tower in west London, killing at least 58 people.
Omega Mwaikambo posted one video and two pictures of the body bag with the man inside and then later five pictures of the victim's face and body after opening it to look inside.
He pleaded guilty at Westminster Magistrates Court to two counts of sending by a public communications network an offending, indecent or obscene matter, The Telegraph reported.
Mwaikambo, who lives just yards away from the tower, had watched the blaze engulf the building throughout the night and had made cups of tea for fire fighters as they battled the blaze.
However, later he saw a body bag outside his flat and took the photos on his iPad and uploaded them to Facebook.
"He lives very close to Grenfell Tower as the court will be aware for the catastrophic fire on June 14. He uploaded photographs and video of the deceased inside the body bag and then five photographs of the upper body and the face and the blood that had drained from the body," Prosecutor Tom Little said.
"It appears as if the individual might have been someone that jumped from the tower and had not survived and was waiting to be moved to the coroner's mortuary," he said.
After his arrest he provided the police with the pin to his iPad and phone and the images were taken down from the web.
Little said the offences were high culpability because "even the fact of the death would not have been known to the family" of the victim at this early stage.
The court heard the victim has yet to be identified and the defendant had been kept in custody for his own safety after his arrest.
While the body of the man in the photographs is yet to be identified formally, one man has said he believed the photo showed his brother, Mohammed, who was confirmed dead.
"This morning we saw a picture of his body on social media and the police didn't know anything about this. This picture shouldn't have been released on social media. The police are saying they couldn't tell us anything until they have more information," he said.
Defence lawyer Michelle Denney said Mwaikambo found the deceased person and was shocked by the fact the body was there and felt a sense of shock that the body was there unattended.
The defendant had tried to find someone to come and help but "there was not one else in sight" and took the photos to "show how the victim was being treated" and get someone's attention.
At least 58 people may have died in the Grenfell Tower fire which houses over 100 families.