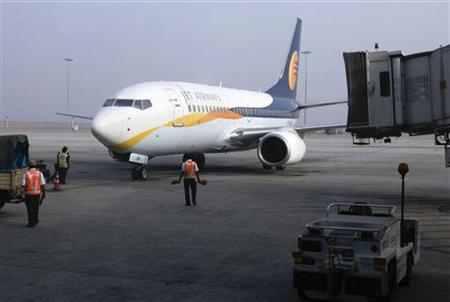 A 24-year old youth whose hoax tweet about a bomb in a Jet Airways plane on an international flight triggered a scare and led to its emergency landing in Muscat surrendered today before Jaipur police.
A HR executive with an MNC financial firm, Surinder Pratap, whose Twitter handle carried the tweet, was neither detained nor arrested by Jaipur police since it said no case was registered against him in the city.
However, Pratap, has been kept under surveillance of the local police till he is taken into custody by a Mumbai police team which is expected to reach there on Saturday.
Hailing from Ludhiana in Punjab, Pratap is staying in a rented flat with seven others in the outskirts of Jaipur city, police said.
A Dubai-bound Jet Airways flight from Mumbai with 61 passengers and crew had made an emergency landing at Muscat airport on Thursday following a tweet about the presence of a bomb on board. The flight was later cleared for onward travel after the message turned out to be hoax.
"Surinder Pratap, who works in a financial company and stays in the outskirts of the city, reached Bagru police station and surrendered. A complaint against him is filed in Mumbai and we have informed the Mumbai police about his surrender and he will be banded over to them tomorrow," Jaipur Additional DCP Karan Sharma said.
Police said Pratap apparently posted the tweet for some publicity but when he was slammed by Twitteratis he deleted it on Thursday night and reached the police station today to express regret for his act.
Ludhiana Police Commissioner Pramod Ban earlier said that Pratap has been traced to Jaipur and that the police there was informed. "We have traced the man. He is currently living in Jaipur and we have accordingly informed the police there today," Ludhiana Police Commissioner Pramod Ban said.
"Pratap hails from Uttar Pradesh. Currently, he is living in Jaipur. Around six months back, he had come to Ludhiana for some work and lived here for a small period of time," he said.
Pratap claims to have "casually" posted the tweet from his account, which was created recently, and by the same name, without knowing its repercussions, Ludhiana Deputy Commissioner of Police, Naveen Singla said.
"He has been working in Jaipur for some time now and is employed as an HR executive with an MNC," the DCP added.
Pratap had posted two tweets from his mobile, one was about a bomb spotted in the flight and in the other tweet, he claimed that he was involved in the Vyapam scam of Madhya Pradesh.
Cyber crime expert Mukesh Chaudhary, who was assisting the local police in this case, said that similar incidents of hoax through social networking sites have also taken place in the past and police needs to create awareness about cyber laws.
"Such incidents are like cyber terrorism. Youth do not know consequences of posing such threats, they just do it for a fun or to draw attention but it can ruin their career and police should focus on creating awareness," Chaudhary said.
The tweet – "Bomb spotted on Jet Airways 9W 536 from Mumbai to Dubai departure at 1225 from CSIA" (ChhatrapatiShivajiInternationalAirport)-- triggered the scare after it was noticed by a Jet Airways staff who informed Mumbai ATC about it.
The message was relayed to the Muscat ATC at 1.55 pm following which the plane was diverted to the airport in the Omani capital.