West Bengal Chief Minister Mamata Banerjee on Tuesday said she would stage a two-day sit-in in Kolkata from March 29 in protest against the Bharatiya Janata Party-led Union government's alleged discriminatory attitude towards her state.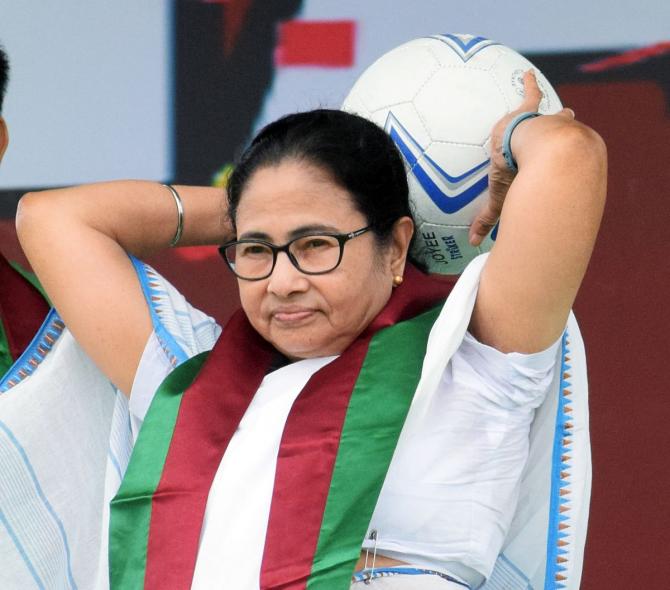 She claimed that the Centre has not released funds for the Mahatma Gandhi National Rural Employment Guarantee Act (MGNREGA) project for the state and other initiatives of its housing and road departments.
"West Bengal is the only state which has not received anything from the Centre. It has not given us our due money. Even in this year's Union budget, there was nothing for our state.
"Hence, in protest against the Centre's discrimination against West Bengal, I, as the chief minister, will stage a sit-in demonstration under the statue of Dr B R Ambedkar in Kolkata from March 29 and continue it till the evening of March 30," she told reporters at Dumdum airport before leaving for a three-day trip to Odisha.
Banerjee, also the Trinamool Congress supremo, said she would also be protesting against the price rise of gas cylinders.
After March 30, 'we will take this programme from one block (of West Bengal) to another, from district to district', she said.
"They have not given our dues. I myself had met the prime minister and told him that we are yet to get funds for the 100 days work scheme for six months. I had told Home minister Amit Shah when he had come here for a meeting," she said.
The chief minister said she had written to the central government several times seeking the dues but in vain.
Banerjee questioned why West Bengal was not getting its dues even after earning accolades from the Centre alongside UNESCO, United Nations and other countries for its performance in different projects.
Hitting out at the BJP, Banerjee alleged that the Central Bureau of Investigation (CBI) and the Enforcement Directorate (ED) officials were sending teams following instructions of the local leaders of the saffron camp.
"It appears the local leader of the BJP has become the CBI director and the ED president... The country is running like this... but this cannot go on," she told reporters.
Asked whether she would discuss politics with Odisha Chief Minister Naveen Patnaik, Banerjee said 'it will be a courtesy meeting'.
© Copyright 2023 PTI. All rights reserved. Republication or redistribution of PTI content, including by framing or similar means, is expressly prohibited without the prior written consent.