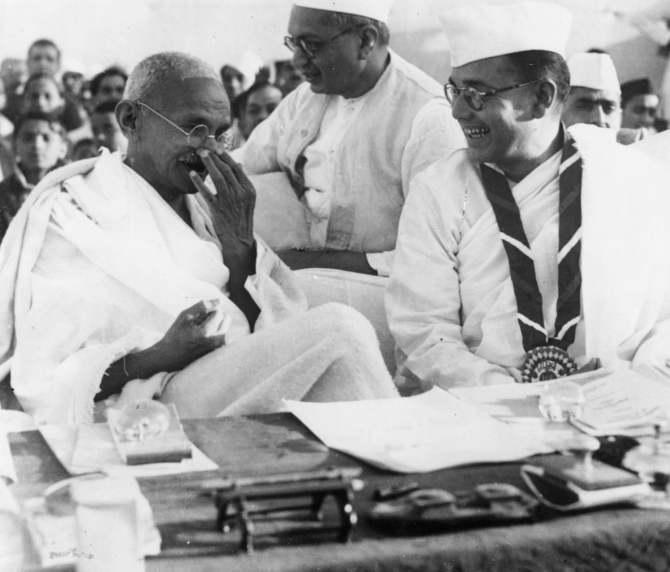 Mahatma Gandhi with Subhas Chandra Bose during the 51st Indian National Congress. Photograph: Keystone/Getty Images
West Bengal Chief Minister Mamata Banerjee has sparked off a new debate on whether freedom fighter Subhash Chandra Bose was alive or not after 1945.
After declassifying 64 files pertaining to the last days of Netaji from 1937 to 1947 in the state capital on Friday, the Mamata said that she had gone through some files and had got the impression that Netaji may have been alive after 1945.
In some of the files that have been declassified, the then CID, Intelligence and Administrative officials had dismissed the Taiwan air crash theory. "There are letters in the files where some people had said that Netaji might have been alive after 1945 (when he reportedly died in a plane crash)," Banerjee told reporters.
"I did not get much time to go through the files. I have seen a bit of it and I have seen letters which were intercepted even after 1945 and documents which indicated that Netaji's family was snooped upon," she said.
She demanded that the Centre declassify files relating to the nationalist leader and said it is unfortunate that the mystery regarding Netaji's disappearance has remained unresolved for 70 years.
The 12,744 pages of the 64 files have been digitised in the form of compact discs. The original files will be kept at the Kolkata police museum and will be open for public viewing from next Monday.
The police commissioner gave the first copies of digitised files to the family members of Netaji.