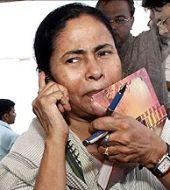 Union Railways Minister and Trinamool Congress chief Mamata Banerjee on Tuesday said she would not contest the assembly elections in West Bengal and campaign for her party.
In case her party wins, she would get elected to the assembly within six months, the railway minister said.
"It is not mandatory to contest the elections. I will campaign for my party," Banerjee told mediapersons at her Kalighat residence before leaving for Delhi.
Asked what she would do if her party is elected to power and forms the next government, Banerjee said in that case she could get elected to the assembly within six months for which there is a constitutional provision.
"Now if I devote myself to campaigning, I can concentrate more on my work. I will continue as railway minister and fulfill my commitment," she said.
Banerjee had said on Monday that the list of her party candidates for the assembly elections was ready.
Image: Mamata Banerjee