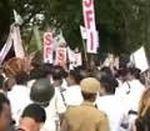 West Bengal Chief Minister Mamata Banerjee fell ill and was administered oxygen while her Finance Minister Amit Mitra was put under observation in AIIMS for some medical tests, hours after they were heckled by an angry mob of SFI activists outside the Planning Commission office.
Sources close to Banerjee said she cancelled her meeting with Prime Minister Manmohan Singh in the evening as she was not feeling well.
She was administered oxygen for sometime in the evening in her house in South Avenue, while Mitra was taken to AIIMS for some medical tests, they said.
Mitra has been admitted in the hospital for the night and will be released tomorrow after some tests, sources added.
Banerjee and Mitra were today targeted by CPI-M and its students' wing activists outside the Planning Commission office where they had gone to discuss West Bengal's annual plan in the afternoon.
The 65-year-old Finance Minister was jostled and pushed around as he tried to enter the Yojna Bhawan building. A woman protester thumped him twice on his chest and his kurta was torn in the melee.
Even though Banerjee was advised by police not to get down from her car and drive straight inside the complex, she chose to walk through the slogan-shouting and placard-wielding crowd to enter the building.
She was immediately shielded by policemen amid chants of "Mamata Banerjee hai hai (Mamata down down), TMC hai hai, Hatyari Mamata sharm karo (have shame, killer Mamata)" by the SFI activists.
An angry Banerjee later vented her anger at Minister of State for Planning Rajiv Shukla and Deputy Chairman Planning Commission Montek Singh Ahluwalia.