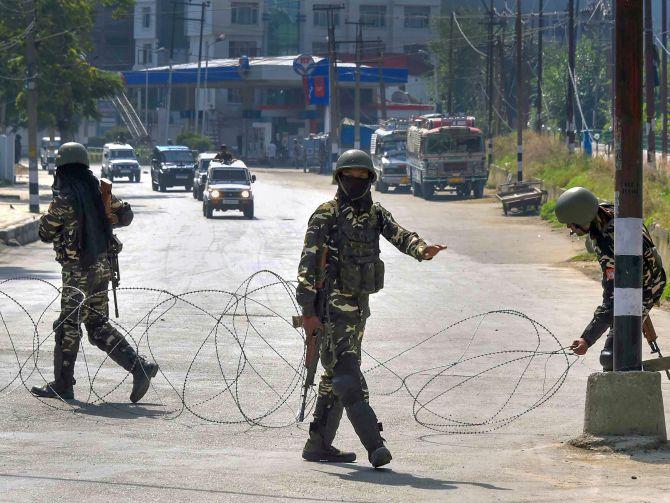 West Bengal Chief Minister Mamata Banerjee on Wednesday charged the Centre with using 'brute force' to 'scuttle' the voices of dissent in the Kashmir Valley.
She also hit out at the government for posting retired bureaucrats, who she alleged were its 'yes men', as head of institutions.
Alleging that the Centre is following 'one government, one leader and one party' principle, the Trinamool Congress supremo said it seems the country is headed for presidential form of government where there will be no place for democracy for which freedom fighters waged a sustained battle.
Accusing central probe agencies of trying to intimidate her party MLAs and leaders, Banerjee dared them to put her behind the bars.
Her comments come in the backdrop of several top TMC leaders and ministers being summoned and questioned by the Central Bureau of Investigation in Saradha chit fund scam and the Narada sting operation.
Banerjee was addressing TMC's students wing-Trinamool Chatra Parishad -- workers on its foundation day.
Banerjee, while referring to the Reserve Bank of India's decision to transfer Rs 1.76 lakh crore to the government, alleged important institutions of the country are being headed by retired bureaucrats, who are acting as 'yes men' of the government.
The RBI's current governor Shaktikanta Das is an ex-IAS officer who was the country's Economic Affairs Secretary till May 2017.
"What is going on in Kashmir? The government is using brute force to scuttle all voices of dissent in the valley," she alleged.
The TMC chief's assertions on Kashmir issue drew a sharp reaction from the rival Bharatiya Janata Party whose Bengal unit president Dilip Ghosh accused her of speaking the language of Pakistan Prime Minister Imran Khan while pursuing her 'Muslim appeasement' policy.
He said it was against national interest.
Ghosh, the Lok Sabha member from Medinipur, also slammed Banerjee for her comments against central probe agencies and said if she has not committed any wrong, she has no reason to be afraid.
The TMC supremo, who on several occasions has criticised the detention of three former chief ministers of Jammu & Kashmir -- Farooq Abdullah, Mehbooba Mufti and Omar Abdullah -- after the revocation of special status to the state, sought to know about their whereabouts.
"If there was an all-party meeting, we would have presented our views. We don't know where Farooq Abdullah, Mehbooba Mufti and Omar Abdullah are ," she said.
A bitter critic of the saffron party, Banerjee asserted that she would continue to raise her voice against the government and dared it to arrest her for doing so.
The TMC supremo said she 'will not bow down before the BJP'.
"All the institutions are headed by retired persons, who have no accountability. They are just following orders of the government like 'yes men'," the TMC boss said.
She claimed the RBI's action had sheared of its vital reserves.
"There is no reserve money in RBI now. All money has been used by the Centre," Banerjee claimed.
"They are propagating one government, one leader, one party, one emergency. I presume we're heading towards presidential form of government. Is this what our freedom fighters fought for?" she said.
"All other parties are being fragmented. When Karnataka government fell, no one said anything. They say they will capture Bengal, too, I will see how that happens," the feisty Bengal leader said.
"The central government is either threatening opposition leaders or buying them out with money. It is after Bengal now, as we are opposing its policies and divisive politics," she alleged.
She claimed her party leaders were receiving 'intimidatory' calls from central agencies.
"One of my MLAs told me how the central agencies are intimidating them. We are not scared of any agency. We have committed no wrong. They will call one person today and another tomorrow. If they want they put me behind bars, I will go to jail. I will take that as another fight for freedom. I won't bow down before BJP," she asserted.
Ghosh, the state BJP chief reacted sharply to Banerjee's accusations, saying she need not worry if she has done no wrong.
"If she and her party have committed no wrong then why is she afraid of central investigating agencies. The state government has filed 28,000 cases against our party workers and leaders across the state. Have we ever cribbed over it? We are fighting it politically, legally and democratically," Ghosh, a Lok Sabha MP, told PTI.
"It seems she is busy appeasing a minority community that is why she has started speaking the language of Pakistan Prime Minister Imran Khan. Whatever Imran Khan is saying, she is repeating it. When Kashmir is heading for a new era of development, such a statement from a chief minister is against the interest of the nation," Ghosh said.