I don't disown my past association with Vijay Mallya but that does not mean I endorse his monetary misdemeanours, a feisty Divya Spandana tells Subhash K Jha.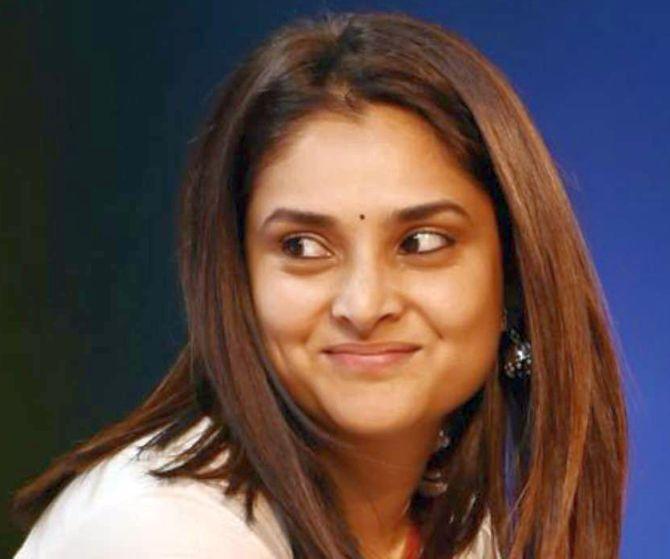 A controversy has erupted over Congress social media chief Divya Spandana's alleged connection with fugitive businessman Vijay Mallya after a news channel reported that the former Kingfisher chief had sponsored her holiday to Hong Kong in 2010.
However, Divya has refused to be cowed down by the charges or to disown her past association with Mallaya.
Speaking to this correspondent Divya said that attempts are being made to divert the attention from Union minister Piyush Goyal's alleged role in the Flashnet scam.
"This was nothing but a bullying tactic to deflect attention from the Piyush Goel controversy. What has my past association with Mallya got to do with the transgression of which he is guilty now? I do not endorse his (Mallya's) misdemeanours. At the same time I don't disown my past association with him," Divya said.
Divya, who went by the screen name of Ramya during her successful stint in Kannada films, said that she wasn't even in politics in 2010.
"First of all, I wasn't even in politics in 2010. I was doing very well as an actress, earning enough to not only pay for my own holidays but also for the holidays of many others," she explained.
"I don't know how this channel came to the conclusion that this was my first visit to Hong Kong or that it was funded by Mallya. I had visited Hong Kong on a number of occasions before that," she added.
The doughty associate of Congress president Rahul Gandhi said Mallya was a family friend but that she doesn't endorse his wrongdoing.
"Is Mr Mallya a family friend? Yes, he is. And I am not about to shrug that off. Does that mean I endorse his monetary misdemeanours? Not at all. I am completely in favour of his being tried for whatever financial irregularities he is accused of committing," Divya said.
The Congress high command, the former actor said, has absolutely nothing to say about this supposed skeleton from her closet.
"It is no skeleton. I am not even trying to deny the association. But I am amused at the lengths to which certain sections of the media go to deflect attention from actual issues. And to suggest that my holidays need to be paid for by someone else is a highly misogynistic idea, best left to the news channel to chew on and spit out," she said with a hearty laugh.
Divya says the party is now preparing for victory in the next Lok Sabha elections.
"We have a voice of only 44 people in Parliament. Yet that voice is being heard. Isn't that something? I sincerely feel Rahul Gandhi is ready to take over the reins of the country. I'd rather invest my time and energy in preparing for our victory in the next elections than focusing on some laughable controversy generated by a TRP-hungry news channel," she concluded.