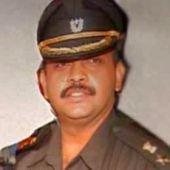 The Supreme Court on Thursday refused to grant interim bail to ex-army officer Shrikant Prasad Purohit, Pragya Thakur and other accused in the 2008 Malegaon blast case.
A bench of justices H L Dattu and C K Prasad refused to grant any interim relief after senior advocate U R Lalit appearing for the accused contended they have been behind bars for four years and their petitions are not being heard by the apex court.
"We will not give interim bail at this stage," the bench said.
The bench further said that "it's not our fault" that the petitions are not being heard on a regular basis, after the state government sought adjournment of the case.
The court adjourned the case for three weeks.
The bench also extended its interim order restraining the National Investigation Agency from interrogating the accused.
On January 4 this year, the apex court had extended its stay of the Bombay high court order allowing the agency to interrogate him and had also impleaded the NIA on the bail plea of Purohit.
On December 16 last year, the bench had stayed the operation of the high court's order.
Purohit had approached the apex court challenging the high court's October 20, 2011 order allowing NIA to take him from judicial custody to interrogate him.
Purohit was arrested and issued a charge sheet in connection with the Malegaon bomb blast that took place on September 29, 2008 leaving seven persons dead.
According to the prosecution, the accused had formed an organisation Abhinav Bharat Trust at Pune in 2006 with headquarters at the address of co-accused Ajay Rahirkar. It was registered on February 9, 2007. They had allegedly taken an oath to strive to turn India into a Hindu rashtra called Aryawart.
It was alleged that the members met from time to time to discuss various aspects for achieving their goal. Accused Shankaracharya is stated to have recorded conversations at the meetings and these recordings are the foundation of the case against the blast accused.
Approval for applying provisions of MCOCA in this case was granted on November 20, 2008, and the applicants were booked for offences under this stringent act.
Purohit and Rahirkar along with others were issued charge sheet for offences under various enactments including MCOCA.
On July 31, 2009, the special judge had held that charges against them under MCOCA did not survive and discharged them.
He had directed that the case be placed before a regular sessions court to try them for other offences and therefore rejected their applications for bail.
The state had challenged the order discharging the accused from offences under MCOCA before the high court.
Image: Shrikant Prasad Purohit