Maldivian President Abdulla Yameen Abdul Gayoom had a lucky escape while his wife and two others were injured when an explosion ripped through their speedboat as they returned home after performing Haj in Saudi Arabia on Monday.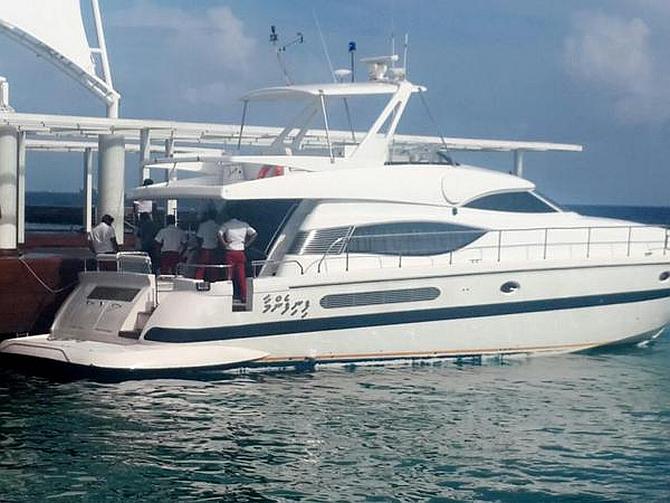 Yameen, 59, and his wife Fathimath Ibrahim were travelling to Male from Ibrahim Nasir International Airport, which is located on the nearby island of Hulhule, when the incident occurred.

Maldivian authorities said that the President escaped unhurt while his wife suffered "no serious" injuries. While the reason of the blast is yet to be ascertained, it is most likely to have taken place in the engine compartment.

"The explosion happened while the President and his wife were returning from the airport to Male after concluding their Haj pilgrimage," Maldivian High Commissioner to India Ahmed Mohamed told Press Trust of India in New Delhi.

"The President did not get injured but his wife did and is being treated at the Indira Gandhi Memorial Hospital. The injuries are not serious as per the reports we have received so far," he added.

He said that President Yameen and the others were quickly transferred to an accompanying police speedboat and brought to Male.

Videos shot following the explosion show the first lady lying down on a bench inside the speedboat. The president was seen leaning towards his injured wife.

According to the reports, the first lady was the closest to the blast. Following the explosion, she landed backwards on the floor. At the same time, the floor cracked open, making a sharp, deep cut in one of the presidential bodyguard Abdu Nasir's legs.

An unknown number of people, including presidential spokesperson Muaz, were also treated at the hospital for breathlesness due to a gas leak reportedly associated with the blast. They have since been released from the hospital, Haveeru Online reported.

Police Chief Superintendent Hamdhoon Rasheed told the journalists that a formal investigation has been launched jointly by the police and the armed forces. Assistance would be sought from both the United States and Australian police, he added.

"We'll investigate this incident as a very serious matter," Rasheed said.