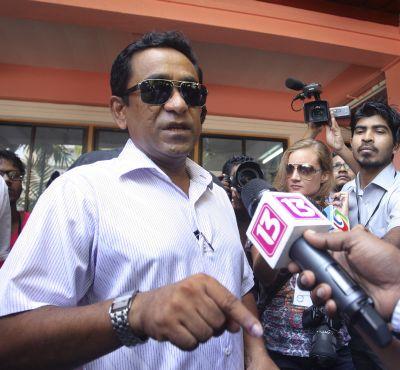 Abdulla Yameen, half-brother of former autocratic ruler Maumoon Abdul Gayoom, on Saturday clinched an unexpected victory in the presidential run-off elections by defeating former President Mohamed Nasheed, who had led in two recent aborted polls.
The winning candidate, a 54-year economist also known as Yameen Abdul Gayoom, contested as a Progressive Party of Maldives candidate. He bagged 51.39 per cent of the votes, compared to 48.61 per cent ballots secured by Nasheed, senior government official Masood Imad told PTI.
Over 90 per cent of eligible voters exercised their franchise in the second round of the much delayed election to choose a new president amidst a constitutional crisis.
Imad said the new president would be sworn in after the announcement of official results by the Elections Commission on Sunday.
The Majlis or Maldivian Parliament has scheduled a special session on Sunday for the swearing-in ceremony.
The results are likely to end more than a year of political turmoil since 46-year-old Nasheed resigned under duress in February 2012 in a controversial transfer of power.
In the first round of elections held in September, Nasheed led over Yameen and Jumhooree Party candidate Gasim Ibrahim but failed to secure a more than 50 per cent of the votes.
But before a run-off could be held, the results were annulled by the Supreme Court which cited irregularities in the voters' list.
A second attempt to hold the polls on October 19 was thwarted by police after a Supreme Court ruling.
The re-vote finally took place on November 9 and Nasheed again comfortably led in the first round but could not cross the half-way mark, resulting in today's run-off with runner up Yameen.
After two cancelled polls, foreign diplomats increasingly viewed delays as politically motivated and the European Union had warned of "appropriate measures" if today's election failed.
The international community insisted that the elections should be held according to the constitutional provisions.
On Wednesday, the Maldives was expelled from the Commonwealth Ministerial Action Group, which is investigating the political chaos after repeated court interventions to prevent the presidential elections.
Nasheed was seen as the most popular leader and analysts believed he was set to regain the president's post 21 months after he was forced to resign.
The results show Nasheed could not expand his supporter base significantly, which could have given his party a clear victory in today's run-off. On the other hand, his opponents joined hands to ensure the victory of Yameen.
Local newspaper Haveeru reported that PPM had agreed to give 33 per cent of government posts to Jumhooree Party, which stood third in the first round of elections.
Facing heightened global pressure, President Mohamed Waheed, who took office when Nasheed resigned, stepped down and left the country before the run-off. He said he was making a private visit to Singapore for the treatment of his wife.
Image: Abdulla Yameen speaking to mediapersons in Male
Photograph: Waheed Mohamed/Reuters