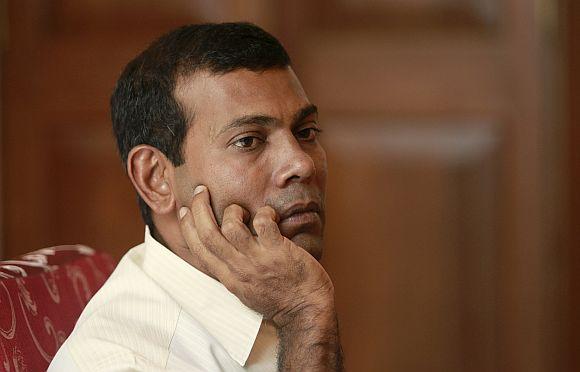 The Maldives government on Tuesday defended the arrest of Mohamed Nasheed on terrorism charges and accused the former president of performing "stunts" to grab global attention after India and the US voiced concern over his detention.
"When the case begins in a court, how can it be called a political act in a society that believes offenders must be tried?" Presidential Affairs Minister Mohamed Hussein Shareef argued.
Lawyers for the former president's Maldivian Democratic Party said the charges were politically motivated.
Nasheed, 47, was arrested on Sunday under anti-terrorism laws for allegedly ordering the arrest a senior judge in 2012 that triggered violence in the Indian Ocean island nation.
Nasheed appeared before the criminal court on Monday with his arm in a makeshift sling.
He was virtually dragged by the security forces as he was presented before the court, which ruled that the opposition leader will remain in custody until the case against him was complete.
India on Tuesday said it was concerned over recent developments in the Maldives, including the "arrest and manhandling" of Nasheed, and asked all the involved to resolve their differences within the constitutional framework.
The US also asked the Maldives to take steps to restore confidence in their commitment to democracy, judicial independence, and rule of law in the wake of Nasheed's arrest.
Shareef accused Nasheed of playing "stunts" to get international media attention and said such incidents tarnished Maldives' image, Minivan News reported.
He claimed the government was not under any international pressure, saying expressions of concern by international organisations and foreign countries "do not amount to pressure".
Tourism Minister Ahmed Adeeb, speaking alongside Shareef, said President Abdulla Yameen would not interfere with the Prosecutor General's Office or the judiciary.
Nasheed must be tried and penalised to ensure justice is done to Judge Abdulla Mohamed, he said.
Superintendent of Police Hamdhoon Rasheed said the opposition leader had staged a fall, and that his arms and fingers were not injured as he had claimed in the courtroom.
"When he fell and started to show resistance, the police attempted to ensure he received no injuries in taking him inside the courtroom," he said.
Nasheed, Maldives' first democratically elected leader in 2008, had taken refuge at the Indian High Commission in Male to avoid being arrested in connection with the same case in February 2013.
Nasheed claimed that he was forced to quit in February 2012 after soldiers and police mutinied and overran his party's headquarters in the capital Male.
However his successor, Mohamed Waheed, who had been serving as vice-president, had said Nasheed left of his own accord.
Waheed lost the controversial November 2013 presidential election to Yameen, the half-brother of former strongman Maumoon Abdul Gayoom.