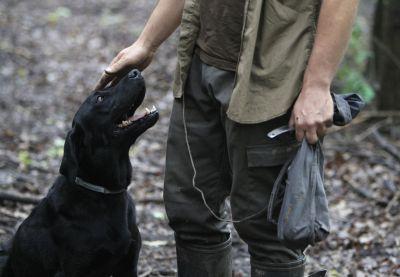 A novel "dog patting" campaign in Muslim-majority Malaysia, aimed at helping people overcome their fear of dogs, has triggered a controversy after Islamic scholars criticised it, prompting authorities to launch a probe.
The event "I want to touch a dog" held here on Sunday to encourage people to pat dogs, considered unclean in Islam, was attended by some 800 people including women and children, and nearly half of them were Muslims.
Islamic scholars said that while touching a dog is allowed in Islam under certain circumstances, they questioned the need for the campaign and its purpose.
The Islamic Development Department (Jakim) has also promised to conduct a probe on the programme.
Jakim director-general Othman Mustapha said the campaign was conducted openly, without a good reason and feared that the organisers might have a hidden agenda and saw it as trying to create a new culture that could lead to insulting Islam.
Selangor state Mufti Mohd Tamyes Abd Wahid on Monday declared that the programme was of no benefit to Muslims.
Mohd Tamyes said that while dogs should be treated humanely as they are also God's creatures, events such as the one held on Sunday did not bring any benefit to Muslims.
"Muslims can own dogs only in three instances -- to help in hunting, to guard property and to help law enforcement agencies (in tasks such as sniffing out drugs and bombs)," he said.
Popular preacher Mohd Kazim Elias has accused the organisers of trying to legalise something that was clearly haram (forbidden) in Islam.
In his Facebook posting, Mohd Kazim said the event was also a subtle way of liberalising and pluralising Islam.
"Muslims cannot, for no reason, touch dogs. What is the purpose of having a programme to encourage Muslims to touch dogs? They are considered unclean, the same as pig," he said.
Sisters in Islam, a Malaysia based NGO, however came forward to support the event, saying it was a good initiative that allowed people to overcome their fears of dogs and helped nurture compassion for God's creatures.
Its programme manager Suri Kempe said, "Prejudice and hatred were the result of the fear of the unknown, and in the case of dogs, it has manifested itself in the frequent reports of dogs being abused, sometimes in the most extreme ways."
The multi-ethnic Muslim-majority Malaysia has historically practised a moderate form of Islam.
Earlier this month, the Oktoberfest beer festival has also faced staunch opposition from Muslim religious leaders.
Image used for representational purposes only
Photograph: Bernadett Szabo/Reuters