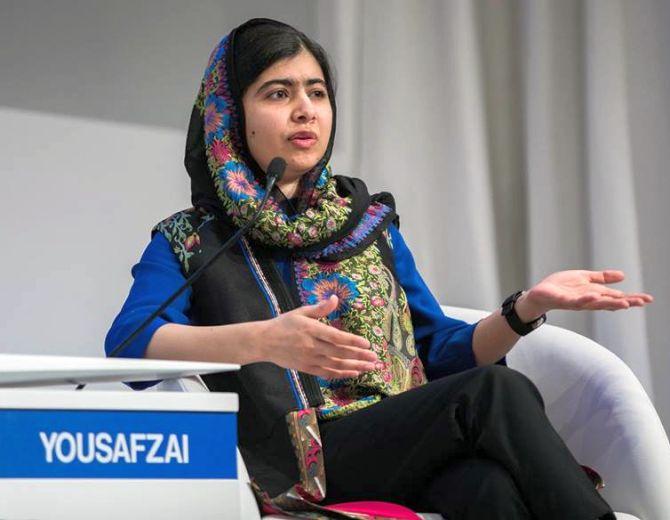 Malala Yousafzai, the youngest ever Nobel Laureate, on Thursday returned to a warm welcome to Pakistan, her first visit after she was shot in head by the Taliban terrorists for advocating for girls education more than five years ago.
Hours after her arrival, the famed human rights activist met Prime Minister Shahid Khaqan Abbasi at his office in Islamabad along with some other officials, the ruling Pakistan Muslim League-Nawaz tweeted.
"Pakistan welcomes 'Gul Makai' to her home. We are proud of you. #malalacomeshome," Muhammad Faisal, Foreign Office spokesperson tweeted.
Malala, now 20, was shot by a gunman for campaigning for female education in 2012 in Pakistan's Swat Valley.
Accompanied by her parents, Malala was escorted through Islamabad's Benazir Bhutto International Airport under tight security.
Malala was dressed in Pakistani salwar kameez and dupatta. She was smiling and looked happy as he was greeted at the airport.
Due to security reasons, her four day-visit and her entire itinerary was being kept secret.
CEO of Malala Fund is also with her and she is expected to participate in the 'Meet the Malala' programme in Pakistan.
It is not known if she will travel to her native Swat in northwestern Pakistan where she lived and was attacked while returning from a school in October 2012 when she was 14 years old.
Severely wounded, Malala was taken by helicopter from one military hospital in Pakistan to another, where doctors placed her in a medically induced coma so an air ambulance could fly her to Great Britain for treatment.
After she was attacked, the Taliban released a statement saying that they would target her again if she survived.
At age 17, Malala became the youngest recipient of the Nobel Peace Prize in 2014 for her education advocacy.
She shared the coveted prize with India's social activist Kailash Satyarthi.
Unable to return to Pakistan after her recovery, Malala moved to Britain, setting up the Malala Fund and supporting local education advocacy groups with a focus on Pakistan, Nigeria, Jordan, Syria and Kenya.
She is currently studying at Oxford University.
The United Nations Secretary-General Antonio Guterres appointed her as UN Messenger of Peace to promote girls education in April last year.
Malala began her campaign aged just 11, when she started writing a blog for the BBC's Urdu service in 2009 about life under the Taliban in Swat, where they were banning girls' education.
In 2007, the Islamist militants had taken over the area and imposed a brutal rule.
Opponents were murdered, people were publicly flogged for supposed breaches of sharia law, women were banned from going to market, and girls were stopped from going to school.
The Taliban, who are opposed to the education of girls, have destroyed hundreds of schools in Pakistan.
Photograph: Kind Courtesy Malala Fund/Facebook
© Copyright 2021 PTI. All rights reserved. Republication or redistribution of PTI content, including by framing or similar means, is expressly prohibited without the prior written consent.