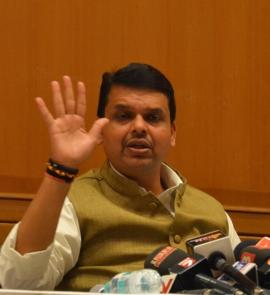 Maharashtra Chief Minister Devendra Fadnavis on Saturday allocated portfolios to newly sworn-in ministers and reshuffled certain portfolios.
Bharatiya Janata Party's Chandrakant Patil, who earlier held cooperation portfolio, has now been given the revenue and rehabilitation departments, held earlier by Eknath Khadse (who resigned over corruption charges).
Girish Mahajan of the BJP, in addition to his water resources portfolio, also got the charge of medical education, which was earlier with the education and cultural affairs minister Vinod Tawde.
Pandurang Fundkar, newly sworn-in cabinet minister and a veteran BJP leader, got agriculture and horticulture portfolios.
Ram Shinde of the BJP, elevated as cabinet minister now, will hold water conservation and protocol departments.
BJP's Jaikumar Raval, newly sworn in, was given employment guarantee scheme department and tourism. Subhash Deshmukh of the BJP, another new face, got cooperation, marketing and textile portfolios.
Mahadev Jankar, leader of BJP's ally Rashtriya Samaj Paksha, will hold animal husbandry, dairy development and fisheries.
Sambhaji Nilangekar of the BJP got labour, earthquake rehabilitation and skill development portfolios.
BJP's Sanjay Rathod would now be minister of state for revenue. Dada Bhuse would now be MoS, rural development.
Deepak Kesarkar of the Shiv Sena would now be MoS Home (rural).
Raje Atram who was earlier MoS forest would now be MoS tribal development.
Gulabrao Patil of the Shiv Sena, newly inducted, would be MoS cooperation.
Arjun Khotkar, another newly inducted Shiv Sena leader, would be MoS for textile, animal husbandry, dairy development, and fisheries.
BJP's Madan Yerawar who was also newly sworn in would be MoS for energry, tourism, food and drugs administration and GAD.
Sadabhau Khot, leader of the BJP ally Swabhimani Shetkari Sanghatna, would be MoS for agriculture, horticulture and marketing.