A terrorist said to be part of the group that attacked civilians at Dhangri village earlier this year was killed during an operation on Saturday in Jammu and Kashmir's Rajouri as Defence Minister Rajnath Singh visited an army base and took stock of the overall security situation, officials said.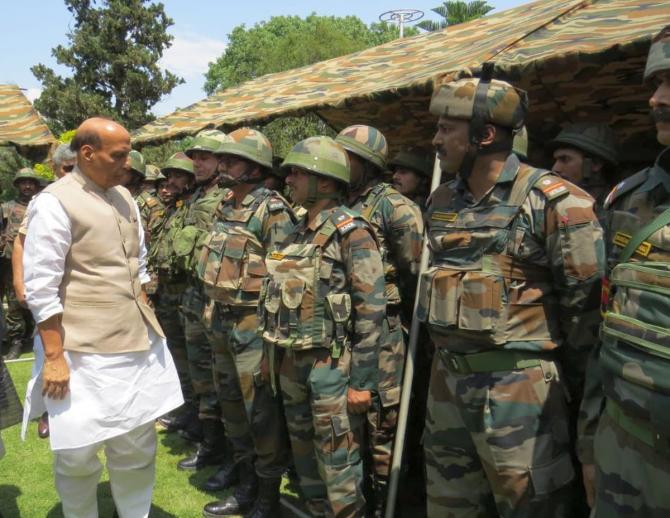 Another terrorist was believed to be injured in the early morning encounter in the Kesari hill of the forested Kandi area during 'Operation Trinetra' which was launched a day after five army personnel were killed and a major-rank officer injured when ultras triggered a blast targeting a search party in Kandi forest.
"In the ongoing joint operation in Kandi forest, Rajouri sector, by Indian Army in coordination with Jammu and Kashmir Police and CRPF, at around 7 am, the cordon, while closing in, spotted and pinned down the terrorists.
"In the ensuing gunbattle one terrorist has been neutralised and one terrorist is likely to be injured," Jammu-based Army PRO Lt Col Devender Anand said.
He said an AK-56 rifle, four magazines, 56 bullets, one 9-mm pistol, its three magazines and three grenades were seized from the slain terrorist whose identity and group affiliation were not known immediately.
The People's Anti-Fascist Front (PAFF), a shadow organisation of the Jaish-e-Mohammed, has claimed responsibility for Friday's attack.
Officials said the search operation was extended to nearby areas with fresh reinforcements from the army and police moving in to block the escape routes. However, there was no fresh contact with the fleeing terrorist.
Despite inclement weather, the operation is on, the officials said, adding the body of the slain terrorist was removed from the scene and his postmortem was also conducted.
The officials said some people from Bathuni village, who were called for identification of the slain terrorist, said he was part of the group that was active in the area and believed to be behind the Dhangri attack on January 1, that left seven civilians dead and several others injured.
Over the past 18 months, terrorists have killed 35 people, including 26 soldiers, in eight attacks in the twin border districts of Rajouri and Poonch.
Defence Minister Singh, accompanied by Army chief General Manoj Pande and Jammu and Kashmir Lt Governor Manoj Sinha, reached the Ace of Spades Division headquarters in Rajouri in the afternoon after a brief stopover in Jammu.
They also interacted with the troops engaged in the ongoing operation against terrorists, the officials said.
Northern Army commander Lt Gen Upendra Dwivedi, the Corps Commander of White Knight Corps, and the Jammu Divisional Commissioner are also accompanying Rajnath to Rajouri, the officials said.
After getting a brief on the operation in Kandi forest, the defence minister chaired a high-level security meeting to review the overall situation in Jammu and Kashmir, especially in Rajouri and Poonch before returning to Jammu, they said.
Earlier in the day, Lt Gen Dwivedi visited the encounter site and was briefed about the developments in the 'Operation Trinetra'.
Rajouri and Poonch in Jammu, which were declared terrorism-free more than a decade ago, have been rocked by a series of deadly attacks since October 2021.
The loss of five jawans in Kandi forest is the third major incident this year. It took place at a time when the forces are engaged in a massive combing operation for the past 15 days following an ambush on an army truck in Bhata Dhurian (Poonch).
Five soldiers were killed and another was injured on April 20 when the army truck carrying fruits and vegetables for Iftar was bombed and strafed with bullets by terrorists.
More than 250 people were detained for questioning during combing operations in the wake of the incident. Six overground workers who extended full support to terrorists were arrested, they said.
According to military officials, terrorists now have adopted a strategy of engaging troops or attacking people and then laying improvised explosive devices to harm security forces engaged in combing operations.
This also happened in Dhangri village in Rajouri where terrorists killed seven civilians in two attacks on January 1 this year.
In two major incidents in Rajouri in 2022, five army personnel and two terrorists were killed in a suicide attack at a security camp at Pargal-Darhal on August 11, while two civilians were killed in a firing incident outside an army camp near Rajouri town.
Besides the eight major attacks, four minor blasts rocked Kotranka in Rajouri district between March and April last year. All these cases were worked out by police with the arrest of the accused.
Nine army personnel were killed in two separate encounters with terrorists in Bhatta Durrian in Mendhar tehsil of Poonch districts in October 2021.
Two army personnel, one of them a lieutenant, were killed in a mine blast in Nowshera sector of Rajouri on October 30, 2021. Rajouri and Poonch districts have witnessed more killings of Army personnel than the militancy-hit Kashmir Valley.
© Copyright 2023 PTI. All rights reserved. Republication or redistribution of PTI content, including by framing or similar means, is expressly prohibited without the prior written consent.