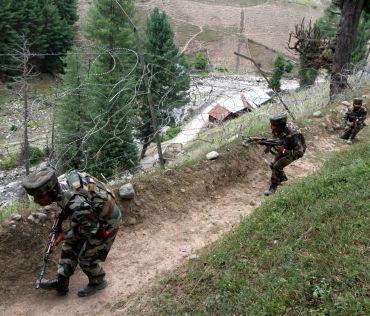 At least 12 militants and an army officer were killed and two jawans wounded in an infiltration bid on the Line of Control in north Kashmir Bandipore district on Saturday.
"Today morning, in the wee hours, our alert troops deployed on the Line of Control near Bagtor village in Gurez Sector of Bandipora district intercepted a group of terrorists trying to infiltrate from Pakistan Occupied Kashmir. The group was intercepted when they were trying to cross the Kishanganga River in a Pneumatic boat. Kishanganga River at many places is the de-facto LoC between the two sides." Srinagar based Defence Spokesman Lt Col J S Brar said.
He said the militants opened fire at the troops and the fire was returned. A heavy exchange of gunfire ensued. While they tried to come ashore, six terrorists were killed and they fell into the river. Six more terrorists were killed near the shore in a fierce encounter.
Five AK rifles, one pistol, two boats, 50 assorted grenades, two radio sets, two compasses and one Global Positioning System besides a large quantity of war-like stores were recovered till reports last came in",  he added.
"This is certainly a new development. The terrorists were also carrying an inflatable five-man Dinghy", he added.
"In this operation, we lost a gallant officer, Lieutenant Navdeep Singh, two of our soldiers were injured too," the spokesman added.
"Navdeep was commissioned in March this year into the Army Ordnance Corps and was serving in 15th Battalion of the Maratha Light Infantry." "The operation is still on to comb the neighbouring dense forests in the area", he said.
This is the eight infiltration attempt this month and the largest so far this year. 
Rediff Photos / Umar Ganie