Members of his team and industry were right now in India, US Defence Secretary Ash Carter disclosed, 'looking at the potential co-production of fighter aircraft.'
Aziz Haniffa/Rediff.com reports from Washington, DC.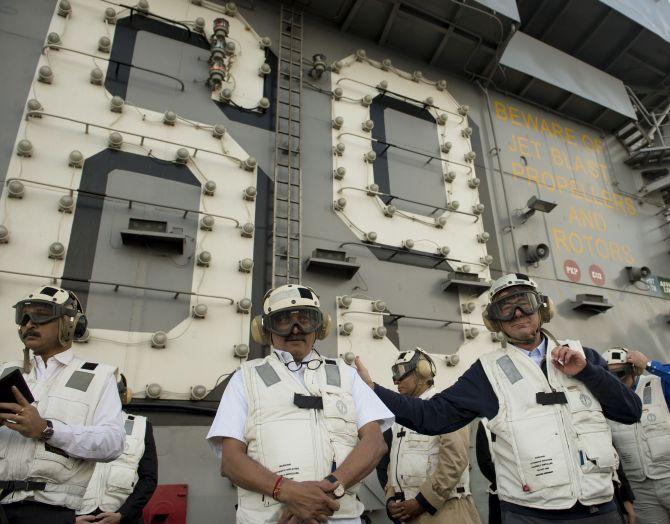 IMAGE: US Defence Secretary Dr Ashton Carter and Defence Minister Manohar Parrikar aboard the USS Dwight D Eisenhower. Photograph: Senior Master Sergeant Adrian Cadiz
United States Defence Secretary Ash Carter Friday, a day before emplaning for India, strongly indicated that some significant defence and military agreements on US-India co-production and or co-development, may be on the cards during his three-day visit.
In his remarks to the Council on Foreign Relations, Dr Carter, who conceived and pushed through the US-India Defence Technology and Trade Initiative during his earlier incarnations at the Pentagon, said, "While I am in India, I will meet with Prime Minister (Narendra) Modi and Defence Minister (Manohar) Parrikar to discuss the progress we have made together in aircraft carrier, jet fighter, and jet engine collaboration."
"And we will talk about exciting new projects, the details of which I cannot got into this afternoon, but stay tuned for when I'm with Minister Parrikar," he added, to chuckles from the audience.
"Last year, the Modi government reached out to the United States to discuss the possibility of launching joint production on a new platform -- to build on the work Lockheed Martin and Indian industry achieved on the C-130J project and what Boeing and the Indian industry will achieve on the production of Apache and Chinook helicopters India recently purchased," Dr Carter noted.
Members of his team and industry were right now in India, Dr Carter disclosed, "looking at the potential co-production of fighter aircraft."
"These conversations represent the growing enthusiasm of the US-India partnership,' he added, "and even more than that, its promise."
Wile acknowledging that "these negotiations can be difficult and global competition is high," Dr Carter declared that he had "no doubt that in the coming years, the United States and India will embark on a landmark co-production agreement that will bring our two countries closer together and make our militaries stronger."
Pentagon sources said these conversations are focused on the Lockheed Martin F-16V and Boeing F/A-18 fighter designs to be produced in India as part of Prime Minister Modi's Make in India initiative.
At the outset, Dr Carter predicted that "The US-India relationship is destined to be one of the most significant partnerships of the 21sr century."
"Over my years at the defence department," he recalled, "I have seen a remarkable convergence of US and Indian interests, what I call a strategic handshake."
"As the United States is reaching west in its rebalance, India is reaching east in Prime Minister Modi's East policy that will bring in farther into the Indian and Pacific Oceans."
"As our strategic and technological interests are drawn together," Dr Carter explainerd, "so too have our military ties. We are coming together operationally across domains by air, land, and sea, to collaborate on humanitarian assistance, disaster relief, maritime security, and maritime domain awareness."
During his visit among the several important agreements that would be signed would also be one on "commercial shipping information exchange, which will make many new things possible in the future."
"Our gathering partnership in defence can also be seen in India's return to major joint exercises, like Red Flag, our prestigious US Air Force-hosted aerial combat training exercise where all our top pilots, and those from countries like India, train together," Dr Carter added.
India, he said, would also once again, "participate in RIMPAC, the world's largest international maritime exercise. And in the Malabar exercise, Japan, India, and the United States, all three, have operated together at sea in such critical training as air defence and anti-submarine warfare."