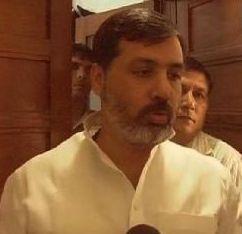 Bahujan Samaj Party MP from Uttar Pradesh Dhananjay Singh and his wife Jagriti were on Tuesday arrested in connection with the murder of their 35-year-old maid and "mercilessly" torturing another minor domestic help with sticks and rods.
The body of the maid Rakhi, bearing burn marks and injuries on the chest, stomach, arms and legs, was recovered from Singh's residence at South Avenue in New Delhi on Monday evening after the Jaunpur MP himself informed the police.
38-year old Singh, who already faces charges of murder, extortion and other offences under the Gangsters Act, was arrested for destruction of evidence, not informing police about the maid's death immediately and employing a juvenile as domestic, Mukesh Kumar Meena, Joint Commissioner of Police (New Delhi), told reporters in New Delhi.
Jagriti, 29-year old Dental surgeon at the Ram Manohar Lohia hospital in the national capital, has been arrested under sections 302 (murder), 307 (attempt to murder), 344 (wrongful confinement) of Indian Penal code and Juvenile Justice Act.
This is the latest in a string of cases involving torture of domestic helps being reported from the city in the last few months.
Police said Rakhi had been burnt with hot iron and was beaten up badly.
"The juvenile help told us that Jagriti had been regularly beating the three domestic helps including Rakhi on petty issues. Rakhi was brutally beaten on Diwali night and she succumbed to her injuries next morning," said Meena.
He said Dhananjay has been charged with destruction of evidence as he removed the hard disk containing CCTV footage collected from 20 cameras installed at the residence.
"Dhananjay was informed about the death in the morning yesterday but he informed police about it late in the evening," said Meena.
Dhananjay and his wife are going through divorce proceedings.
Jagriti was taken into custody this morning and questioned for over 12 hours.
Police said the maid died due to injuries inflicted by the MP's wife around 8.30 yesterday morning, but the matter was reported by BSP MP to police only at 8.30 pm.
They said the injury marks were visible on arms, legs and chest.
Dhananjay told police that he was away in his constituency in Jaunpur in Uttar Pradesh and reached Delhi only in the evening and subsequently informed police, said investigators.
Jagriti had called Dhananjay and informed him about the maid's death, police said.
Rakhi had been working at the MP's residence for the last 10 months. According to police, Jagriti had been allegedly torturing her maid during this period.
"Although she was torturing her for past many months, but the frequency of beating had gone up since November 1," said a senior police officer.
"Investigation is going on. We will seek police custody when they are produced in court," said Meena, adding Jagriti never attempted to admit her to any hospital after Rakhi's condition deteriorated.
Police said a total of 20 CCTV cameras were installed in the MP's South Avenue house to keep a tab on servants' movements. Police said Jagriti controlled cameras through her mobile phone and TV set.
When police arrived to recover Rakhi's body, the juvenile help informed police that Rakhi had died because of beating. Rakhi was placed at MP's house through a Chirag Delhi-based placement agency.
Police said the agency's office had been found locked and the agency's owner is absconding. Police said Rakhi was a Bangladeshi migrant. Rakhi's family has been informed and they would be reaching Delhi by Wednesday.
A number of cases of torture of domestic helps have been reported in the city in the last couple of months.
A 13-year-old maid was rescued from Sarojini Nagar in south Delhi on October 29. The girl was frequently beaten up and kept locked in her room for days by her Manipuri employer who works as an airhostess.
A month before that, a teenage domestic help, allegedly tortured by her female employer, was freed from a posh Vasant Kunj house.
Image: BSP MP Dhananjay Singh
Photograph Courtesy: ANI