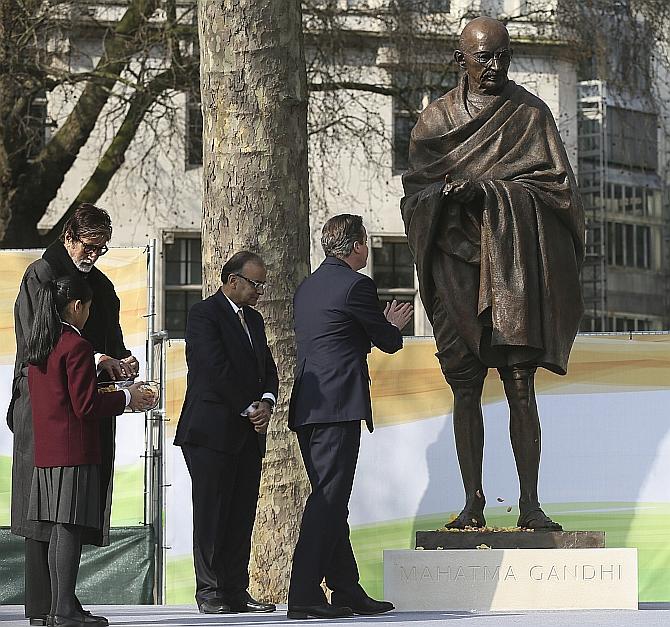 A historic bronze statue of Mahatma Gandhi was unveiled on Saturday at the Parliament Square in London in a rare honour bestowed by the government in Britain whose colonial regime he had overthrown by his non-violent campaign.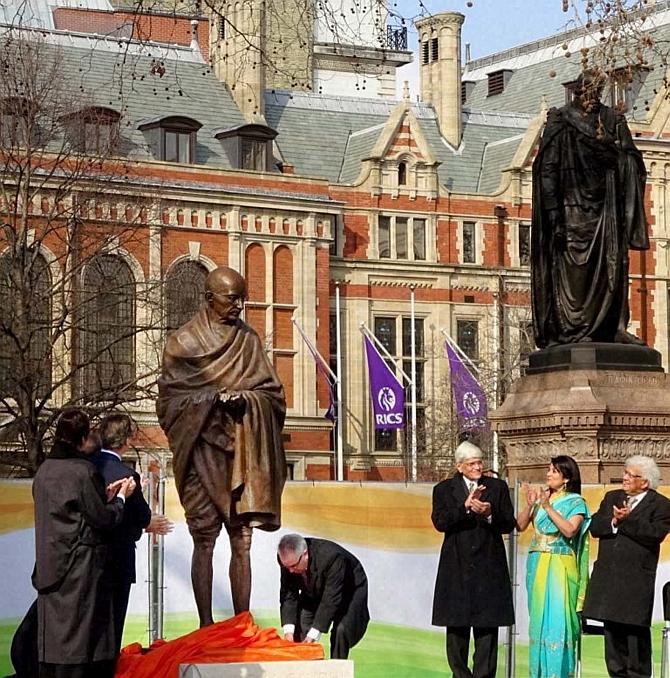 Gandhi's 9-foot statue was unveiled jointly by British Prime Minister David Cameron and Finance Minister Arun Jaitley as chants of "Raghupati Raghav Raja Ram", a popular bhajan that was the Father of the nation's favourite, reverberated in the air.
A galaxy of political leaders were present at the event along with Bollywood legend Amitabh Bachchan and Gandhi's grandson Gopalkrishna Gandhi at the ceremony.
Gandhi is the first Indian and the only person never to have been in a public office to be honoured with a statue at the Square. The statue stands exactly opposite Britain's Houses of Parliament in the Palace of Westminster and adjacent to iconic leaders like anti-apartheid icon Nelson Mandela.
Gandhi's statue also has Britain's war-time Prime Minister Winston Churchill for company, an irony given the ex-premier's dismissive thoughts of someone he described as a "half naked fakir".
The statue depicts the leader of the Indian national movement wrapped in a shawl to shield himself from the London cold during his last visit to the British capital in 1931.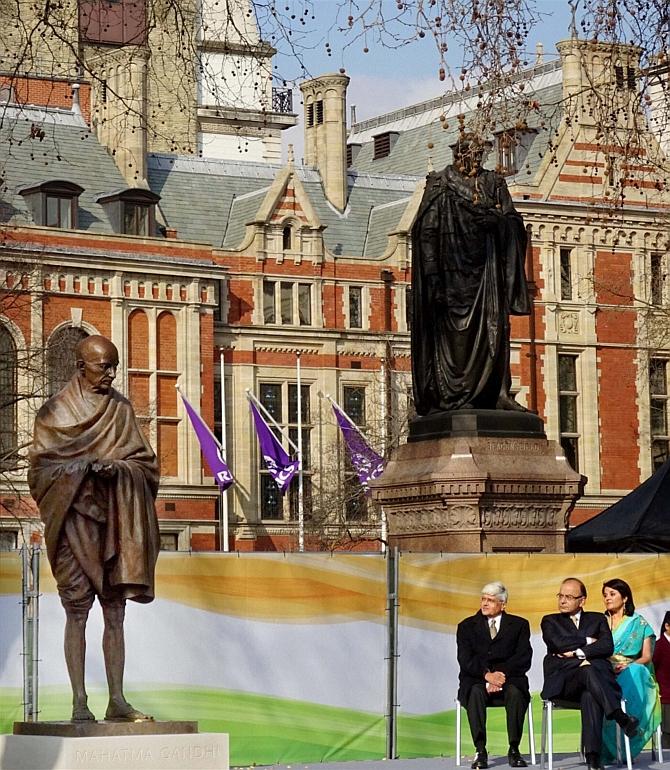 "By putting Gandhi in this square, we are giving him an eternal home in our country. The man who turned the politically unimaginable into the politically inevitable, whose work in South Africa paved the way for Mandela. A man whose doctrine of Satyagraha became the inspiration for civil rights movement across the world," Cameron said.
"This inspirational man worked out who he was and what he stood for right here in Britain...If Gandhi could have lived anywhere in the world outside India, he said it would have been London. We should be proud of that. And we are proud of him," he said.
The Premier said the statue celebrates the "incredibly special" friendship between the world's oldest democracy and its largest.
Jaitley, invited to the UK especially for the unveiling, said the statue was a tribute to the British sense of civility that they now choose to honour someone who was conventionally regarded as their adversary.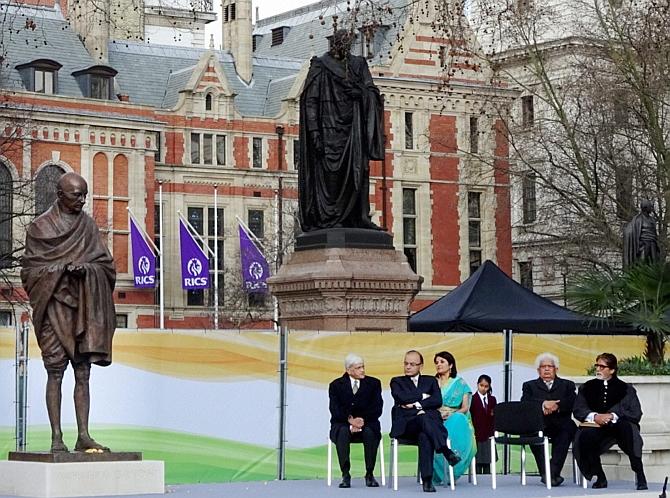 "Mature nations transcend bitterness and acrimony. In Parliament Square there is also a statue of Sir Winston Churchill, arguably the man who opposed Gandhi most resolutely. Some would detect an irony in the great Prime Minister sharing a public space with the man he once decried as a 'half-naked fakir'," Jaitley said.
"May be there is irony but even Churchill would have acknowledged that the resolve, determination and even cunning he showed in standing up to a mighty military machine that threatened the very existence of a proud and free people was replicated by Gandhi in his seemingly unequal battle against the world's mightiest Empire. What will link Churchill and Gandhi together is their strength of character," Jaitley said.
He highlighted that it is a greater tribute to Britain to recognise Gandhi's contributions and choose to place the "seditious, half-naked fakir" next to his one-time nemesis, Churchill and next to the man the Indian iconic leader inspired, Nelson Mandela.
"Nobody embodies the deep and enduring connections between the world's oldest democracy and the world's largest democracy as well as Mohandas Karamchand Gandhi -- the Mahatma -- whose statue is being unveiled in Parliament Square today," he said.
"Gandhiji will find himself set permanently in stone very close to the place he occupied transiently, in flesh and blood, on his first night in London more than 125 years ago," he added.
Gandhi's struggle to break Britain's imperial hold over India and to force the world's oldest democracy to create the world's largest one are the stuff of history and legend, Jaitley said.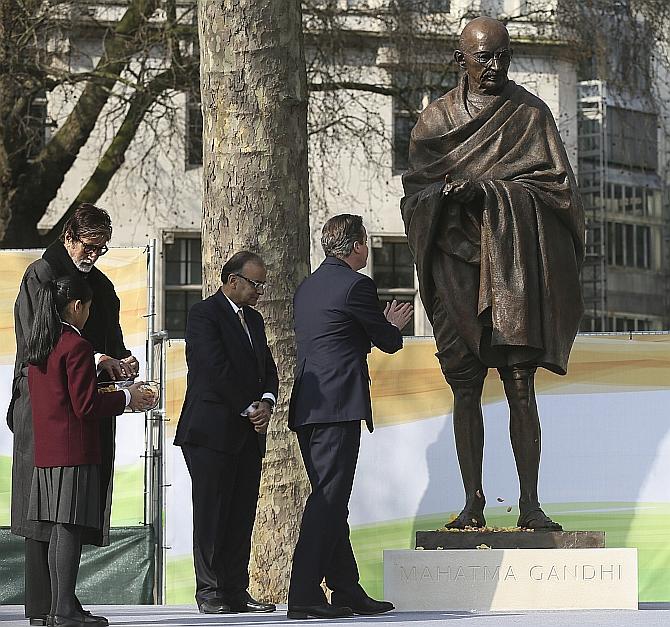 The sculptor, Philip Jackson, described his creation as an important symbol in the global fight against terror.
"We live in an age where terrorism and acts of random violence are used in an attempt to effect change. Gandhi's sculpture reminds us all that great change can be achieved peacefully and without violence," said the well-known British figurative artist.
NRI economist and founder of the Gandhi Statue Memorial Trust, Lord Meghnad Desai, described the unveiling as "great occasion for India, UK and the world."
"Gandhi belongs to the whole world but has now found a home in the centre of London, a city which he loved. Let everyone come from everywhere and see for themselves Gandhi in Parliament Square in London," Desai, who was behind the 1-million pound global fund-raising efforts for the statue, said.
The move to install Gandhi's statue was announced during an official UK ministerial visit last year and donors have included leading Indian-origin businessmen like steel tycoon Lakshmi N Mittal, Infosys co-founder Narayana Murthy and his family and Bajaj Auto chief Rahul Bajaj.
The sculpture is aimed as a focal point for commemoration of the 100th anniversary of Gandhi's return to India from South Africa to start India's struggle for freedom, as well as the passing of 70 years since his death in 2018, and the 150th anniversary of his birth in 2019.
Image: Indian Finance Minister Arun Jaitley, Bollywood actor Amitabh Bachchan and British Prime Minister David Cameron unveil Mahatma Gandhi statue at Parliament Square, London.

First Three Photographs: PTI
Fourth Photograph: Reuters