The Maharashtra government on Wednesday relaxed its stringent ban on plastic usage by allowing small retailers to use plastic bags for packaging for the next three months.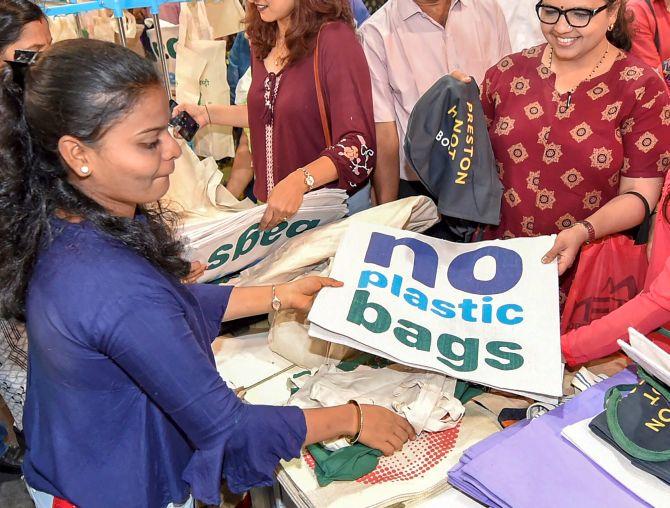 The relaxation will be applicable for plastic bags above 50 microns.
The new announcement came within four days of imposing the ban on single-use plastic across the state.
The relaxation granted to small retailers is on the lines of a similar exception already available for branded products.
Making announcement to this effect, State Environment Minister Ramdas Kadam said representatives of small traders had submitted a proposal to work out a mechanism for recycling plastic bags within the next three months.
He said the small retailers also submitted a proposal on collecting plastic bags they would be giving to the consumers.
"They have assured that the plastic bags issued (by them) will bear an imprint of whether they are thicker than 50 microns or not, besides the place of manufacturing. They have also assured that the plastic bags given by retailers to consumers will not end up in garbage dumps," the minister said.
Kadam said the government has granted the relaxation for a period of three months during which the association of retail traders has assured them of coming up with a recycling plan.
The relaxation will be applicable for plastic carry bags above 50 microns.
"The government had relaxed the ban on usage of plastic bags in packaging industry. It looked like the government had given the concession to big traders and left out the smaller traders," he said.
Kadam said the small retailers have submitted a proposal assuring that they will collect plastic bags after paying 50 paise per bag to the consumer.
The state government banned all kinds of plastic bags, irrespective of their thickness, tea cups, glasses, thermocol glasses, thermocol used for decoration, plastic used in hotels to parcel food like boxes, spoons from June 23.
The ban prescribes Rs 5,000 fine for the first-time offenders and Rs 10,000 for the second-time offenders. Those who violate the ban for the third time will face a fine of
Rs 25,000, along with a three-month imprisonment.