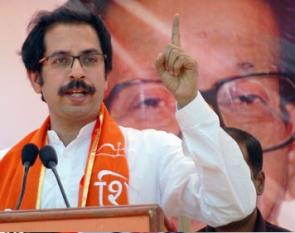 With just a week left for the Fadnavis government to prove its majority in the Maharashtra assembly, Bharatiya Janata Party and Shiv Sena are yet to resolve their differences over terms for the latter's participation in the ministry, deputy chief minister's post being one of the sticking points.
While both sides have been maintaining since last Friday when Sena Chief Uddhav Thackeray attended Devendra Fadnavis' swearing-in that discussions were on to sort out the differences, a Sena leader on Tuesday said talks were 'stuck' over the deputy CM's post.
"The talks between the two parties are stuck on the question of Dy CM's post. We have been demanding deputy CM's post for our nominee which they don't want to give. We can make adjustments with regard to portfolios but not this," a Sena MP said, speaking on the condition of anonymity.
Sena has been insisting on following the 1995 formula under which BJP, being the junior partner, had got deputy chief minister's post, in the first coalition government formed by the two saffron parties.
The practice was followed by successive Congress-Nationalist Congress Party governments for 15 years, but now BJP, which has emerged as the single-largest party with 121 seats in the 288-member assembly, wants it to be discontinued.
He also said part of the problem was with portfolios being offered as important ones like home, finance, revenue and urban development have already been allotted to BJP ministers.
"Discussions should ideally be a two-way affair but here they want us to accept whatever they give," he said, adding Sena, despite having 18 Lok Sabha MPs, was given just one berth in the Union Cabinet and an "insignificant" portfolio of heavy industries.
Another Sena MP said talks were on to "remove the irritants" and his party will wait till Saturday for a "respectable" offer from BJP before joining the government. He said the party may decide to sit in the opposition if that does not materialise.
"We will wait and see if we are offered respectable positions in the state ministry till Saturday. If they fail to give us that, we may announce our plan of sitting in the opposition," he said.
The three-day special session of the assembly is scheduled to begin on November 10 and Fadnavis will seek a vote of confidence in his ministry on the concluding day.
Uddhav had attended the swearing-in of the BJP government following a last-minute call from party president Amit Shah, reviving hopes of a reunion between the ideologically compatible former Hindutva allies. The two leaders had also held brief talks after the ceremony.
Though Sharad Pawar's Nationalist Congress Part with 41 MLAs has already extended unconditional outside support to the BJP government, taking 63 MLA-strong Sena on board is still the best option before Fadnavis for long-term stability.