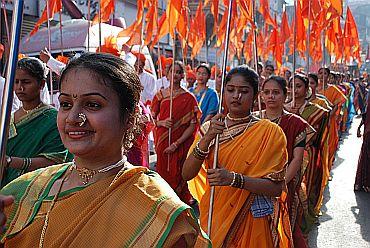 'Gudi Padwa', the first day of the Chaitra month, and New Year's Day in Maharashtra was celebrated with traditional fervour and pomp all across the state on Tuesday.
This is one of the three and a half days in the Indian Lunar calendar called 'Sade-Teen Muhurt', whose every moment is considered auspicious in general to start a new activity.
In Maharashtrian households, a bright green and yellow cloth is adorned with brocade (zari), is tied to the tip of a long bamboo over which gathi (sugar crystals), neem leaves, a twig of mango leaves and a garland of red flowers are also tied.
A silver or copper pot is placed in the inverted position over it. This gudhi is then hoisted outside the house, in a window, terrace or a high place so that everybody can see it.
People feast on puran poli, shrikand puri and other delicacies to celebrate the occasion.
Image: A moment of celebration at Girgao in Mumbai on Tuesday  | Photograph: Sahil Salvi