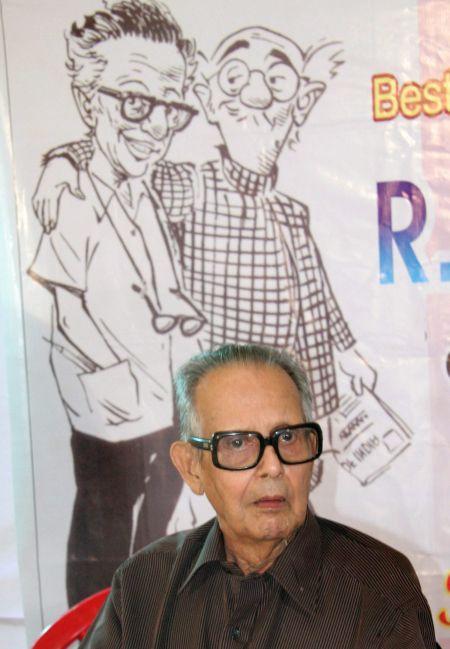 Maharashtra Chief Minister Devendra Fadnavis on Saturday launched a website on the life of legendary cartoonist Rasipuram Krishnaswamy Iyer Laxman, known simply to millions as R K Laxman, to commemorate his 94th birth anniversary on Saturday.
The website 'www.rklaxman.com' was launched in the presence of his family members after Fadnavis paid tribute at his official residence 'Varsha' to the revered artist.
"I consider myself fortunate to have got a chance to launch the website on the life of R K Laxman, a man who will remain immortal. His family members have paid him a unique tribute by creating a website in his name," Fadnavis said on the sidelines of the launch.
Born in Mysore on October 24, 1921, Laxman, son of a school teacher, had to face rejection from the prestigious JJ School of Arts in Mumbai when he applied there for admission, and subsequently graduated with a Bachelor of Arts degree from University of Mysore.
He took up his first full time job as a political cartoonist at Mumbai's Free Press Journal before moving to the Times of India where his comic strip "You said it" with 'The Common Man' became extremely popular.
Among the honours bestowed on him are Padma Vibhushan, Magsaysay Award in 1984 for Journalism, Literature and Creative Communication Arts, B D Goenka Award – Indian Express, Durga Ratan Gold medal- Hindustan Times.
Never rigid in views and averse to ceremonial rigour, Laxman had settled down in Pune from the last several years where he was accorded a state funeral.
He is survived by wife, authoress Kamala Laxman, son Srinivas, a retired journalist and daughter-in-law Usha.