The capsizing of a boat in the Arabian Sea off the Mumbai coast on Wednesday could have turned into a major tragedy had the Indian Navy and Coast Guard not acted quickly, Maharashtra Chief Minister Devendra Fadnavis said while ordering a probe into the mishap that claimed one life.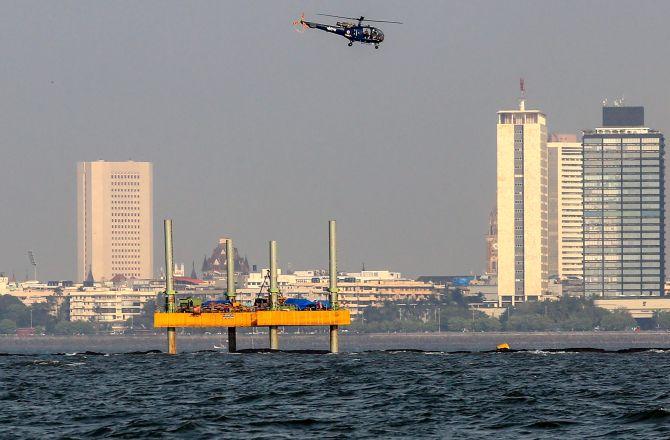 Fadnavis also announced a financial aid of Rs 5 lakh to the family of a man who drowned in the afternoon incident that occurred when officials were on their way to the site of the proposed sea memorial Chhatrapti Shivaji, where work was to begin on Wednesday.
"The boat accident was unfortunate. Due to the timely help and assistance provided by the Indian Navy and the Coast Guard, a major accident was averted. The state government will conduct an inquiry into the incident," Fadnavis told reporters.
Expressing deep grief and condolences to the family of the deceased, identified as Siddhesh Pawar, Fadnavis said, "The Maharashtra government declares an assistance of Rs 5 lakh to the kin of the deceased in this unfortunate accident".
Pawar was an activist of Shiv Sangram Paksha headed by Vinayak Mete, the chairman of a Supervisory Committee monitoring the construction of the Shivaji statue.
The state government had claimed that the statue of Chhatrapati Shivaji, coming up on an island in the Arabian Sea, would be the tallest in the world.
The incident occurred when the boat, carrying some officials of the state government and supporters of Mete, apart from others, was on its way to the site of the proposed memorial.
Two helicopters and rescue boats were deployed for rescue operations.
A survivor has claimed that the incident occurred after the boat hit a rocky patch in the Prongs Reef Lighthouse area in sea, which is the southernmost tip of Mumbai.
He also said the error of judgement by the skipper of the ill-fated twin-engine boat could have caused the incident.
Meanwhile, the Congress too has termed the incident as "extremely unfortunate and suspicious".
"It seems that Shivaji Maharaj doesn't want the present government to build his memorial," said Leader of Opposition in state Legislative Assembly Radhakrisha Vikhe Patil.
He said the Bharatiya Janata Party-led government has been misusing the name of the 17th Century Maratha king to make false promises to the people.
State unit Congress chief Ashok Chavan demanded a probe into the mishap which he said seems "suspicious".
"Yesterday, Vinayak Mete, who heads the committee to set up the statue, had alleged irregularities in the tender process. And today the accident occurred which led to cancellation of the work ceremony. This is suspicious," he said and wondered that if the accident was "meant to silence Mete".
Senior Nationalist Congress Party leader Dhananjay Munde also demanded a probe to fix responsibility.