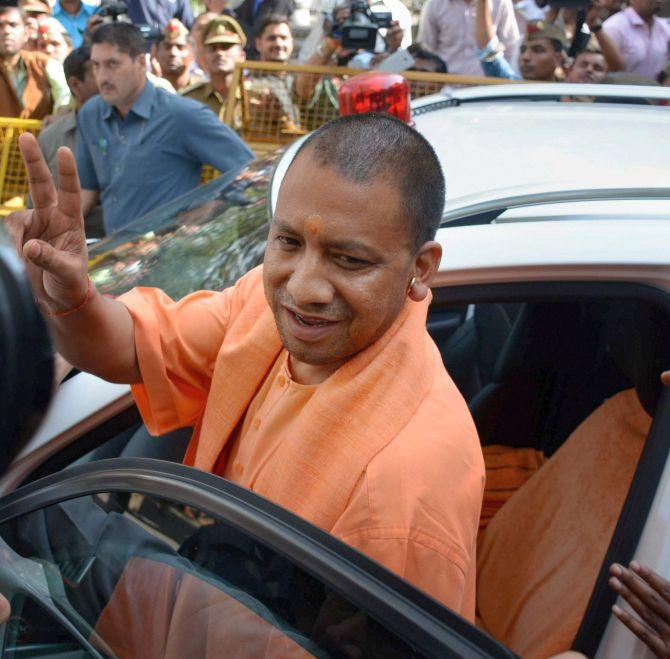 It was not Akbar, but Rajput king Maharana Pratap who stood up to the might of the Mughal Army, Uttar Pradesh Chief Minister Yogi Adityanath has said.
Speaking at a function to mark the Maharana Pratap Jayanti on Thursday, he asserted, "It was not the Mughal emperor Akbar, but Maharana Pratap who was great for he displayed exemplary courage in the face of the might of the Mughal army.
"It is not important as to who won the Battle of Haldighati... what is important is who stood up to the most powerful army of those times... Maharana Pratap displayed the courage and valour which is rare in history... the battle continued for years in the hills of Aravalli, and finally after winning back all his forts, it was proved that it is was not Akbar, but Maharana Pratap who was great," he said.
It is a popular view of historians that the forces of Mughal emperor Akbar had defeated Maharana Pratap in the battle of Haldighati in 1576.
"He (Maharana)... guarded the self-respect and honour of the country through his bravery and valour even in that phase of history,"Adityanath said.
The chief minister added that the Rajput king was relevant even today.
Adityanath also released a special edition of Rashtriya Swayamsevak Sangh magazine Avadh Prahri on the occasion.