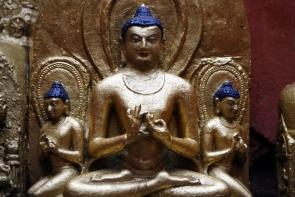 The Mahabodhi temple in Bodh Gaya, declared by the United Nations Educational, Scientific and Cultural Organisation as a World Heritage Site, shined as its dome was inlaid with 280 kilograms of gold donated by devotees from Thailand.
"Installation of gold donated by Thai devotees is now over. The temple is now complete," said N Dorjee, secretary, MahabodhiTemple.
The Mahabodhi temple is a sacred place for Buddhists around the world as it is the place where Lord Buddha attained enlightenment. This temple witnessed a series of low intensity explosions on July 7 this year in which two monks were injured.
Image: An idol of Lord Buddha is seen at the Mahabodhi temple, in Bodh Gaya.
Photograph: Desmond Boylan/Reuters